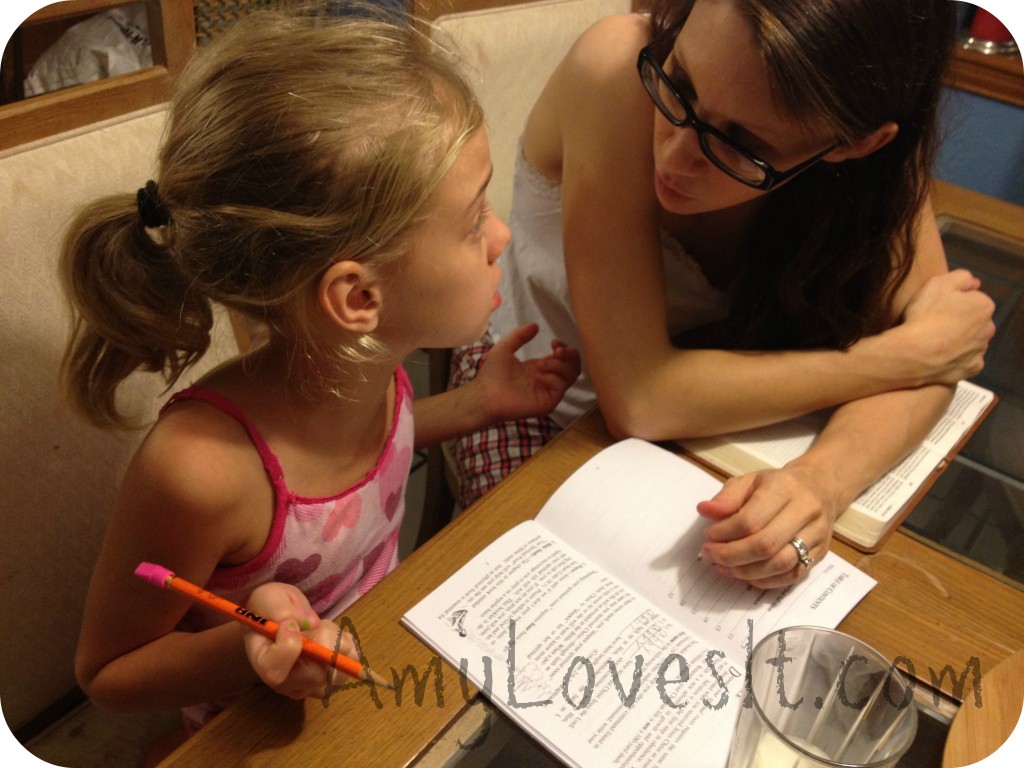 Abby Grace and I working on her Roots book earlier this summer
When I saw the last week's linky on iHomeschool, I thought, "Hmmmm… every day in our house is different!" There is no "typical" day, because of my work schedule. So, I'm sharing the basics and staples of our homeschool day, even though there is some variation within each day of the week.
I like to have time in the morning before the girls get up to read my Bible, check email, write on the blogs, prep for the homeschool day, and eat breakfast. My plan is to begin my day at 5 am. The girls do not usually get up before 7, and Abby Grace can sleep as late as 8:30 or 9 when I let her.
While the girls eat breakfast, I make the bed and begin a load of laundry. School begins between 8:30 and 9, usually closer to 8:30. We begin with Handwriting, Reading (Reese and Meleah) and Phonics (Abby Grace), Language, and Spelling. We take a short break at about 10, when the girls have a snack and I switch the laundry over to the dryer. After the break, we have Math, History, and Abby Grace does her Reading.
When Shane makes his appearance (his lunchtime varies), we have lunch. Lately, I have been laying down at 11:45 and resting until about 1:45. The girls eat and play quietly during this time. When I get up, we do our CC memory work and practice piano. Afterward, we have a snack, and the girls go back to playing, drawing, coloring, or reading (or, they rest for awhile), while I work.
After working for awhile, I begin supper. I haven't been up on my meal planning the last several weeks, so I am getting back into the routine of that. Then, we eat, clean up, hang out with Dad, and do the bedtime routine. Some evenings, I am working while Shane is playing with the kiddos. And then it is time for lights out, and Shane and I read, work, or chat before going to sleep.
Daily Variations:
Monday, Shane is home, and schools with us. Sometimes, this makes school move more quickly, and sometimes we move more slowly with him around. It depends on the day, but the schedule is the same.
Tuesday, we are at Classical Conversations most of the day, and by the time we get home, everyone is ready to crash out. The girls either lay down or play quietly while I lay down or catch up on a bit of work.
Wednesday begins a little later in the morning because of my VA work on Couponing 101. Our school work looks the same, the times are just pushed back a bit later. And I may or may not get any laundry done today! Evenings are also quite different, as we have church, and that eliminates our "typical" evening routine.
Thursday and Friday look very much the same, school-wise, except on Thursdays I am driving a hour and a half away to my baby doctor appointments. These are now on a weekly basis, so our CC memory work is done when I get home. The girls also have piano lessons on Thursday afternoon, so their practice time is moved to after supper.
So, I guess this is more of a "week in the life," rather than a "day in the life." Ha!
I am linking up to: