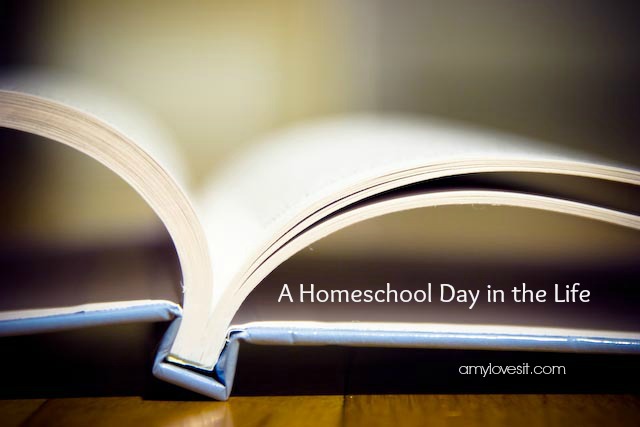 A typical day starts with me working as early as possible. If I can get most of my work finished by the time breakfast is over, I'm a happy girl.
The girls either come into the living room to snuggle, or head straight to the office to get a start on their school work. Each day is different, but it is always one or the other. Usually, Abby and Reese immediately start their work. This isn't something I require, as they are welcome to do most of their independent work at any time of the day, as long as it is completed by the end of the day on Friday. While the older girls work independently, Meleah and I work on her math.
This particular day was a Wednesday in January:
6 am – I'm up. Bible, my Gratitude/Blessings Journal
, and coffee are ready to welcome me. I start my diffusers. Orange is my choice this morning. I am a creature of habit, and it usually doesn't vary from Orange, Christmas Spirit, or a combination of the two. I just like the aroma; it is so homey! It's just Shane and me for a bit, so we take time to chat before the kids get up.
7 am – The kiddos begin to stumble in. Shane makes them oatmeal. Reese wants to make her own essential oils stand and is pestering me to get her started on it. I remind her that stuff gets to wait until after school is finished. I know if we start with that, school may not happen.
I continue working on email and blog posts. Wednesdays are one of my "deal sharing" days, so it can be busy. Today, however, the deals are few and far-between, so I get four up and scheduled. I'm also bookmarking Facebook posts regarding the business bootcamp I am participating in. Everything went up late Monday evening, and since we are gone all day Tuesday, I'm a little behind. Also on the work agenda for the day is editing a few old blog posts to give them new life, and finishing up a few in draft.
8 am – Shane finishes getting ready for work. This is his "late" morning, and he doesn't go in until 8:30. Cam comes in, carried by Abby Grace. He is demanding his breakfast. Typical! Shane makes me a second cup of coffee, and I have a conversation with one child about attitudes and going back to bed if she wants to continue speaking like that. She immediately stops.
Cam, full from his breakfast, realizes I am in the living room and comes to snuggle. He usually wants me first in the mornings, but this time his stomach won out. I take a break from working to chat on Skype, delete some email, and say goodbye to Shane. He has a busy day ahead, as one of his biggest youth weekends begins on Friday.
The girls are still lounging around and I remind them about school. According to them, they are, "still waking up." Okay then. Reese runs to grab her math and grammar and plops down on the couch to get started. I work a little bit on this post and check my homeschool planner for today's lessons.
9 am – I am so glad I made my smoothie last night so it is ready to grab and go! I'm on the Whole30, but I am just not hungry. This smoothie is extremely satisfying. Reese and I go over her most recent math test and then work on her reading. Meleah brings her math paper to me, and then she and I read. Cam is fussing for applesauce, but I told him he has to wait. Since he loves reading and repeats everything Meleah says during her reading time, I pull him into my lap. He immediately focuses in on what she is doing and is happy until we are finished. Now he gets his applesausce, as do Reese and Meleah.
10 am – Reese and Meleah are finished with their work. Reese moves to her bed to work on her Classical Conversations memory work. Meleah makes her bed and begins to play. Abby works on her grammar, and then we do diagramming and brainstorm on her Essentials paper together. I toss a turkey in the oven for supper and meals later in the week. Let's hope I don't blow anything up.
11 am – Abby and I are still working on her Essentials paper. Shane comes home briefly with Kleenex and bananas. Friends stop by to update us on some pending health issues. It's encouraging news. I realize I never set a timer for my turkey, and can't remember exactly when I put it in. I'll just make a guess. It's time to heat up leftovers and get the afternoon routine going.
12 pm – Lunch. I'm counting the minutes until I can lay Cam down for a nap. Timeout for two kids. I work on a post while they're in trouble. I kind of don't mind the break!
Abby and I pick up on her Essentials draft (three paragraphs) and get it completed. We will add strong verbs, quality adjectives, and the like tomorrow or Friday.
1 pm – All school work is finished. Yay! It's nap time for Cam, so he and I head to my bed. That's his preferred sleeping place, and I don't mind as long as he sleeps. Although, my closet is a mess and nap time would be the best time to straighten it. Oh well! I'm just glad he sleeps now!
The girls play in the playroom, and I remind one of them to make her bed. I would love to crawl in bed next to Cam and nap, too. I've been fighting this awful sinus and congestion stuff, and it's kind of worn me out. I have work to do, though, so I press on. I don't usually sleep when I nap anyway, so it ends up being a waste of time when I try.
2 pm – Work time for me while the girls play. I listen to some work-related videos while knitting. I'm not very good yet, even though I'm practicing a lot. Ha!
3 pm – Remind the girls to get dressed for church this evening. Start the evening cleanup.
After Cam wakes up, we will gather up, drop Cam off at my parents' house, and head to church. We eat supper when we (finally) get home. I really don't like eating so late, but it is the only way we can make it work during this season.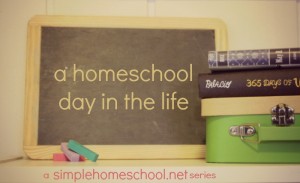 This is typical day in the life at our house! Other than Tuesday, our days pretty much look the same. On Tuesday, we head to our Classical Conversations community for Foundations and Essentials. Monday, and Wednesday through Friday are spent at home and heading to various practices.
photo credit: kellinahandbasket via photopin cc
————