Our school year is well underway, but I really want to share how our homeschool works. I've shared a few "Day in the Life" posts, our curriculum, and more, but I'm going to get into the nitty-gritty of our schooling: how I plan each week, how the girls do their independent work, and more. Every Tuesday for the next few weeks, I will highlight a new aspect of our homeschooling life. I hope you enjoy it!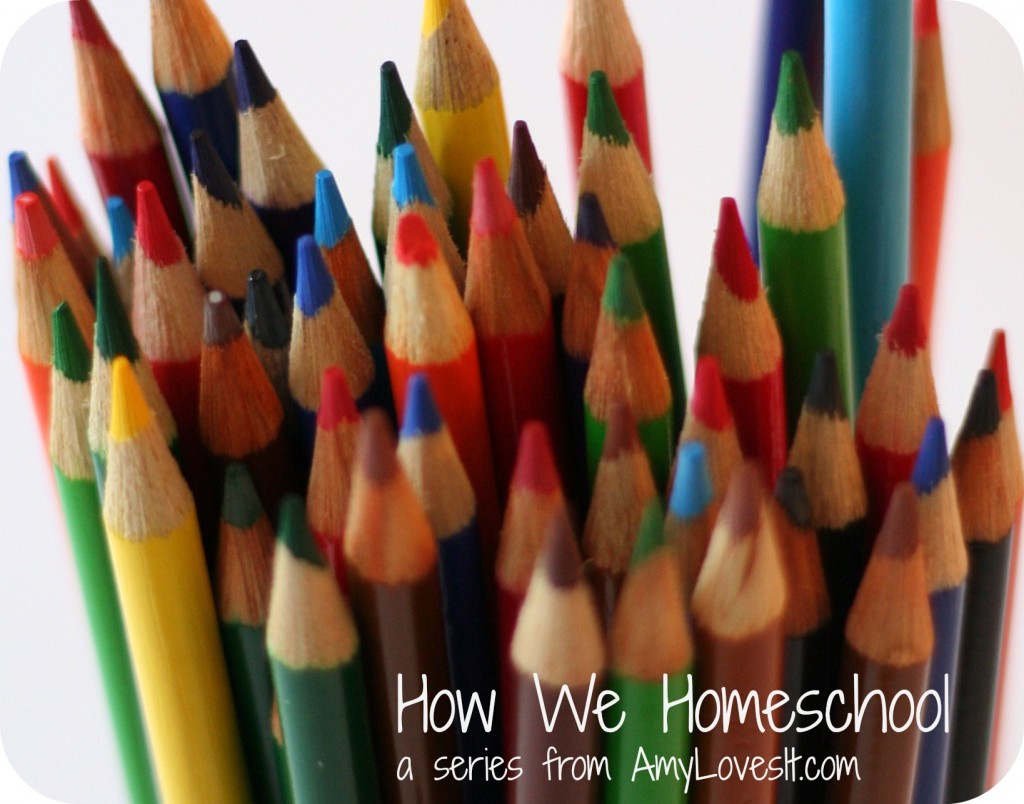 I am, by nature, very Type-A, so I like to have our week scheduled; however, my life is full of interruptions these days. I don't do well with surprises of any kind, and being unprepared tends to rear the heads of all sorts of ugly surprises… and possibly a few mental breakdowns and tears. Suffice it to say, I like being on top of things, and homeschool planning is no exception. I am trying to learn to roll with the punches, but I'm not sure I am doing it graciously. Trying counts, though, right?!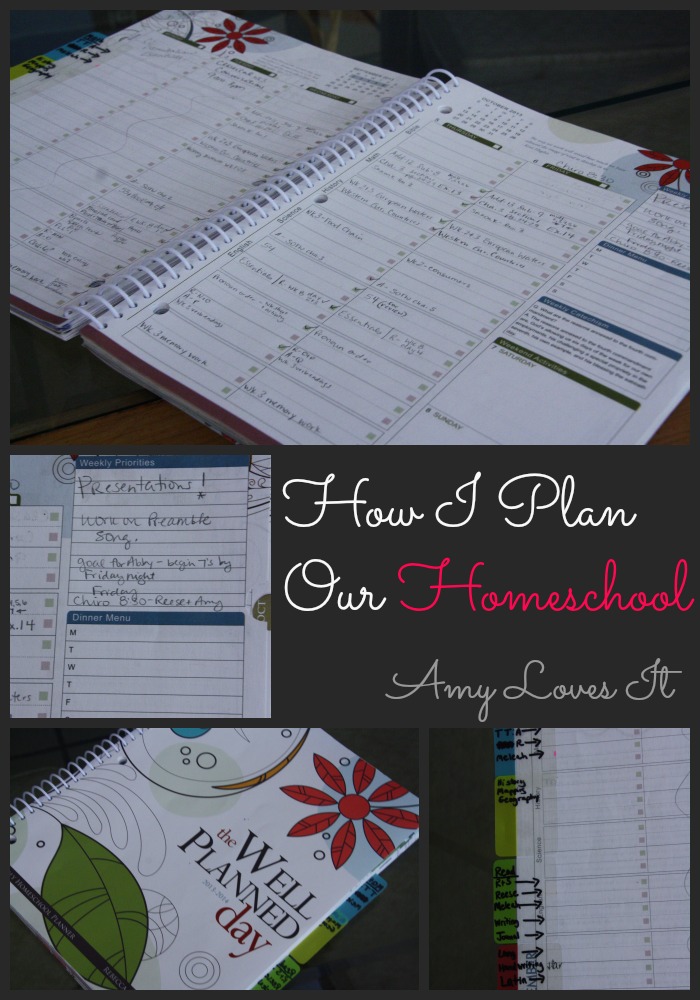 The Planner
For the last three years, I have used the Well-Planned Day Family Homeschool Planner. The frugal side of me balked when I saw the price the first time (and to be honest, I still close my eyes when I hit the purchase button!). After all, there are so many free (or really cheap) printable planners out there. But, this planner sounded like it was written with me in mind, so I bit the bullet. And, I am so glad I did.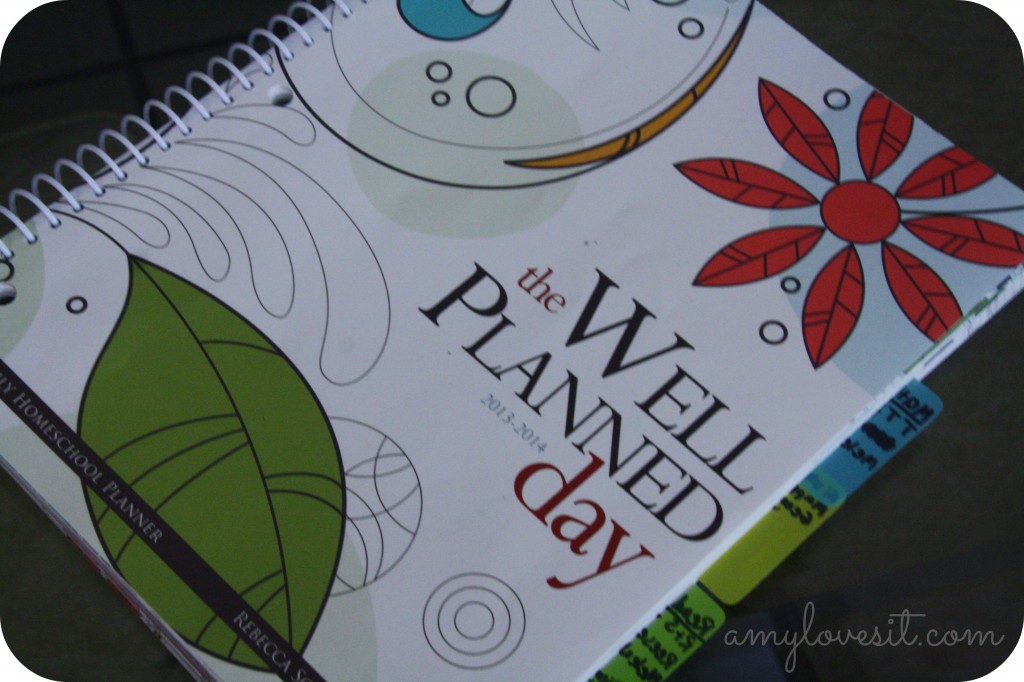 Y'all, it really was written for me. When I first opened it, my heart sang. It was love at first sight, and I haven't given other planners a second glance. This is the one thing I do not question when it's time to buy new school stuff; this planner is my must-have.
I will mention that the days are pretty set; there isn't a lot of flexibility. I like this format, but those of you who like more freedom may not love this planner. If my day doesn't go as planned, I just use my eraser, and begin again the next day.
The Planning
The best way for me to be prepared each week is to take an hour or two on Saturday to plan. During this time, I make copies, input grades, file the previous week's work, and fill the girls' individual binders with next week's work. I also fill in my planner with the next week's work schedule.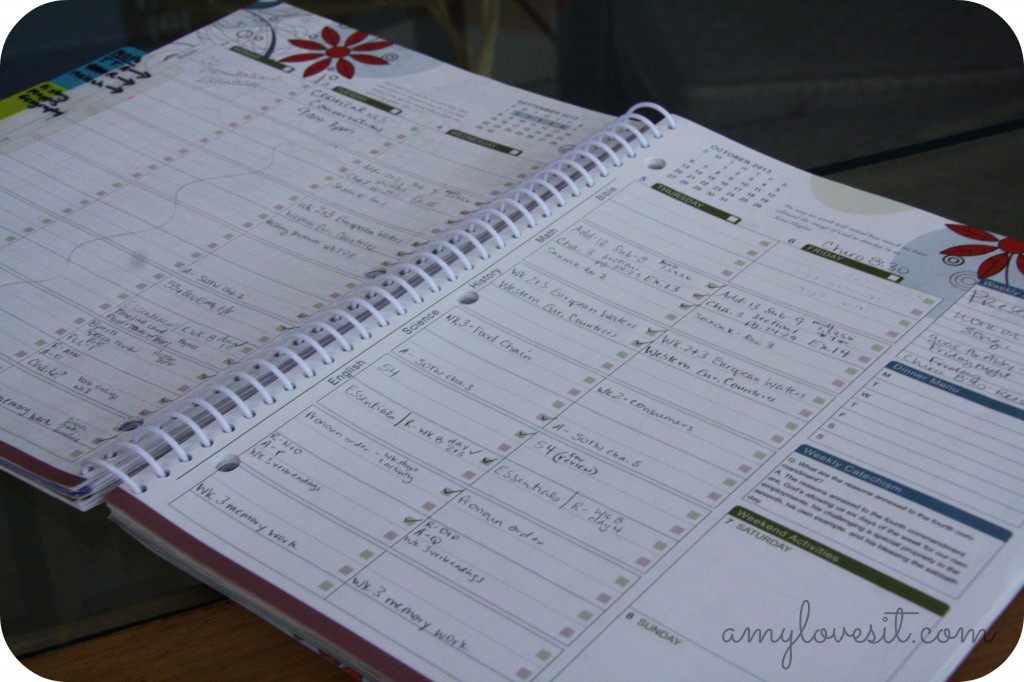 I always use pencil when filling in my planner, because things do happen; sometimes we need to spend extra time on an assignment, or an unscheduled appointment pops up.
By taking an hour out of the week for homeschool planning, I am saving myself from the crazy-panic that comes with the Mommy-what-do-we-do-next questions that inevitably come when the baby is crying and I haven't had my coffee. Admit it. You totally know about those moments. 😉
This time also gives me a chance to chat with the girls and see if they are pleased with the work we did this week, or if we need to review anything.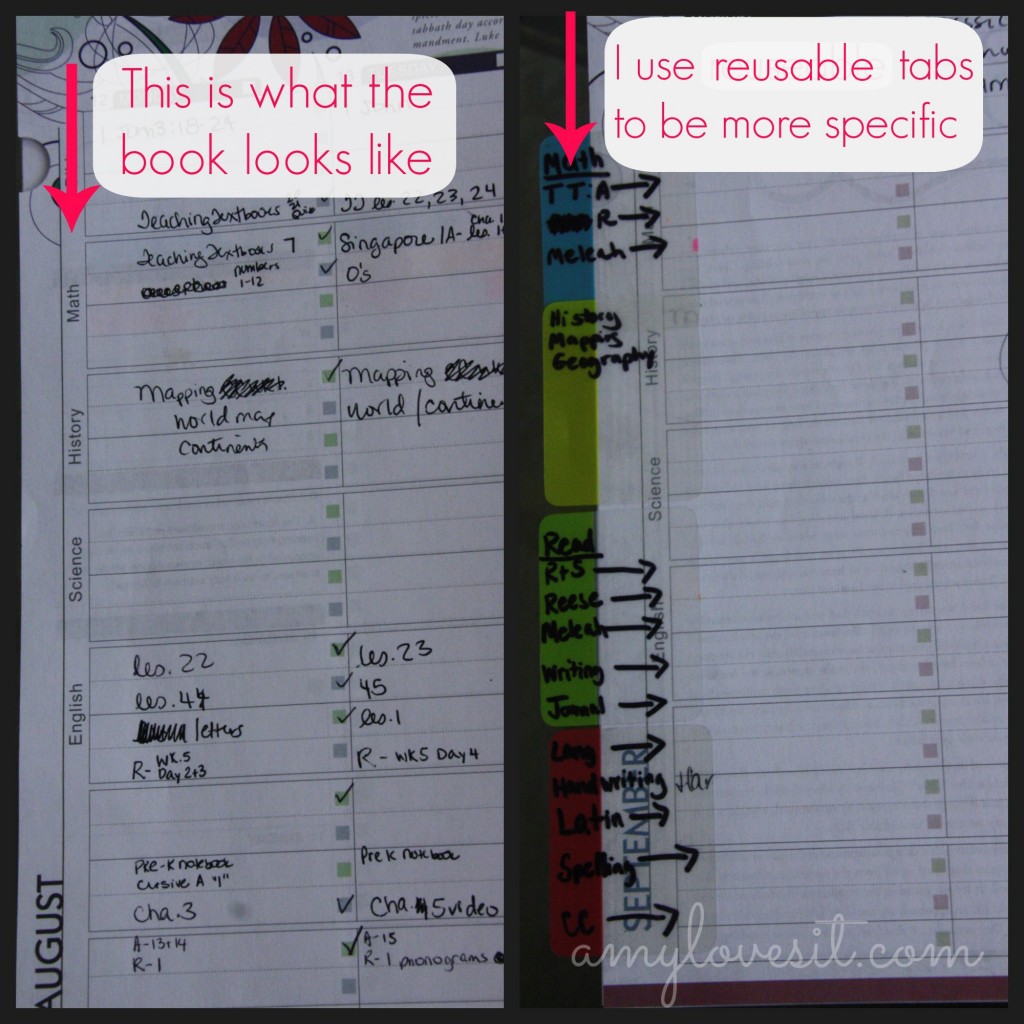 I use the planner a little differently than I think was intended. I prefer to label the sections with reusable tabs with more specific information, as you can see in the photo above. When the week is over, I simply move these tabs to the next week. This way, I am utilizing each and every blank without adding the same information week after week. For example, the green tab is labeled "Read." Underneath that heading, I have R&S (shorthand for Abby's Rod and Staff lessons), Reese, Meleah, Writing, and Journal. Using the "Reese" blank as an example, instead of writing: Reese Reading Lesson # every single week, all I have to write is the lesson number. Could I do that without my reusable labels? Sure! But I would be completely confused as to whose lesson number that was. I have found that this way is more efficient for me.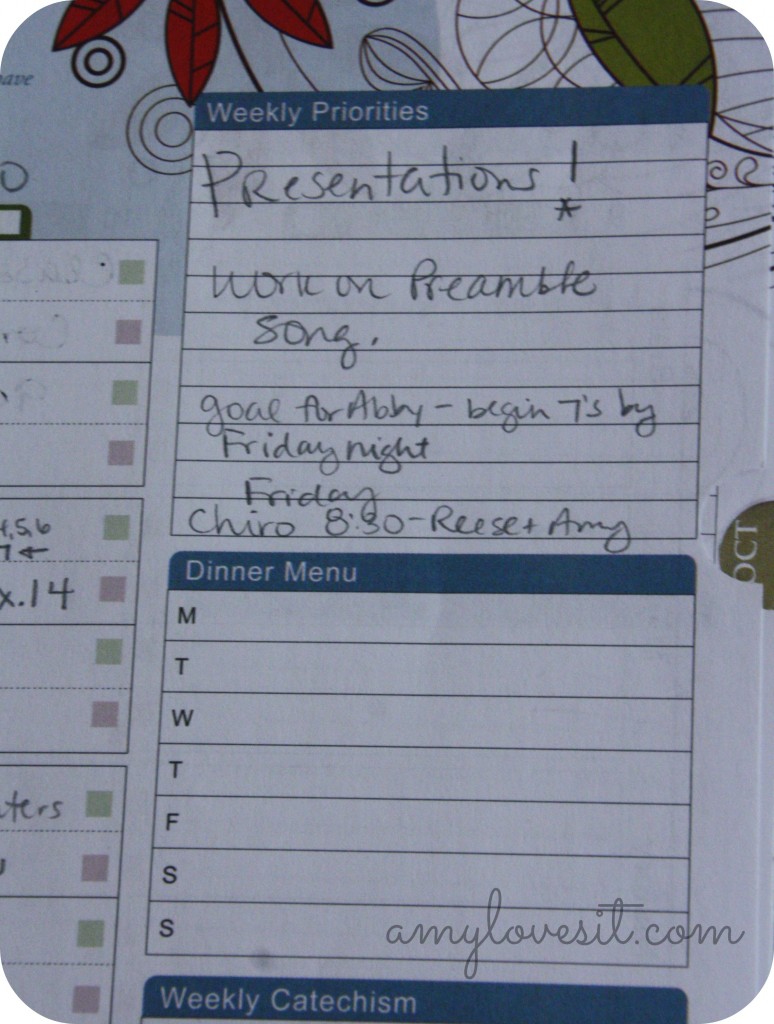 In the top right corner of the planner is a place to jot down notes and meal ideas. I don't always use the meal planning part, but sometimes it is handy, especially if I need to set something out to thaw, I can write it down there. Above the menu is the spot for weekly priorities. I know some people think this space is too small (and some weeks, it IS too small for me), but I actually like it being small. I don't want to be overwhelmed with more things to do; I use this space to scratch quick notes and reminders, as you can see in the picture above.
Between my wonderful homeschool planner and a few hours of preparation on the weekends, I can anticipate the coming week with excitement, rather than trepidation. We can begin our school days with everything in its place, which satisfies this gal's love for order, yet allowing me the freedom to make changes where needed.
This is not a review. I truly love this planner, and I hope they never, ever discontinue it because I will be heartbroken. You are welcome to purchase the planner on Amazon (which is my affiliate link and is shipped free with a Prime account) or from the ChristianBook.com website (not my affiliate link, shipping charges and tax apply).
top photo credit: adam.declercq via photopin cc