This morning's activities were a family event, so we all trooped downstairs for breakfast.
Breakfast sponsored by Disney Junior
This morning's breakfast was sponsored by Disney Junior. The attendees had a special breakfast, and the rest of our family were treated to breakfast and visiting with the Disney Junior characters.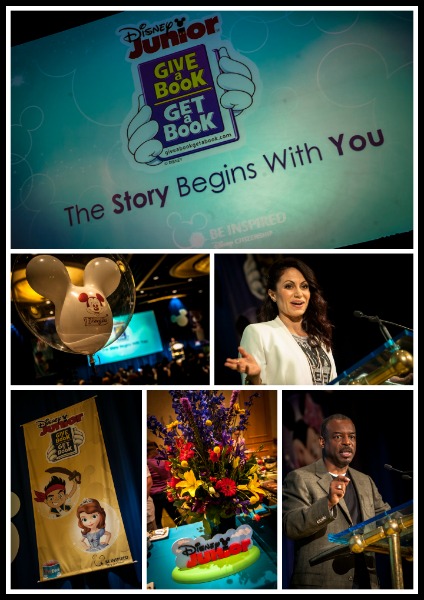 all photos by Josh Hallett
LeVar Burton from Reading Rainbow and Genevive Goings of Disney Junior's Choo-Choo Soul were there to promote Disney's new reading initiative, Give a Book, Get a Book.
Give a Book, Get a Book
What is GABGAB? Disney will donate up to 1,000,000 books to First Book, a non-profit social enterprise that provides new books to schools and programs serving children in need nationwide, in support of Disney Junior's Give a Book, Get a Book. First Book works with eligible organizations and classrooms including: Title 1 schools, after-school programs, libraries, military support initiatives, and others reaching children needing books the most. The program runs through September 30, 2015.
After breakfast, we joined our families for a special story time with readings from David Arquette, voice of Skully in Jake and the Never Land Pirates; Ariel Winter, voice of Sofia in Sofia the First; Tim Gunn, voice of Baileywick in Sofia the First; and LeVar Burton.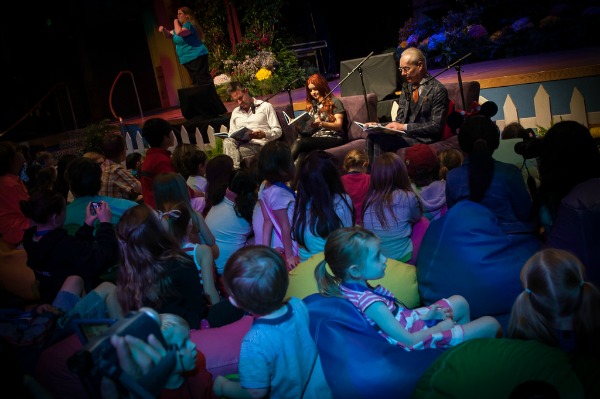 photo by Josh Hallett
After the reading, I got a special treat. The day before, I had won a prize, and it was time for that prize to be fulfilled.  Four other attendees, plus Disney Social Media Moms conference organizer (and so much more!) Leanne Jakubowski, got to meet David Arquette, Tim Gunn, LeVar Burton, and Genevieve Goings! We were not expecting to spend time in the presence of Tim Gunn, so we all made sure our outfits, hair, and makeup were perfect. Ha!
All of them were very nice, but Tim Gunn really stuck out to me. He took the time to get to know us (as much as possible when you have five minutes a piece), and ask about what we do, our families, and really gave us personalized encouragement. I was truly impressed. He was incredibly nice. Oh, and yes… David Arquette put his arm around me. It's okay. You can be jealous. 😉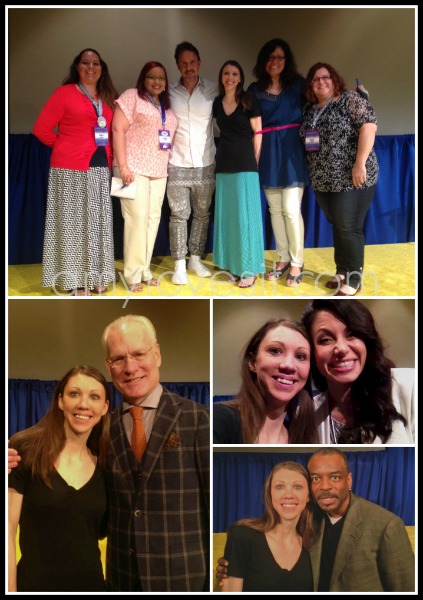 The girls have a new favorite in the form of Girl Meets World star, Sabrina Carpenter. We were also treated to a sneak peak at the new Maleficent movie. I can. not. wait. Maleficent is my absolute favorite. Ever. For real.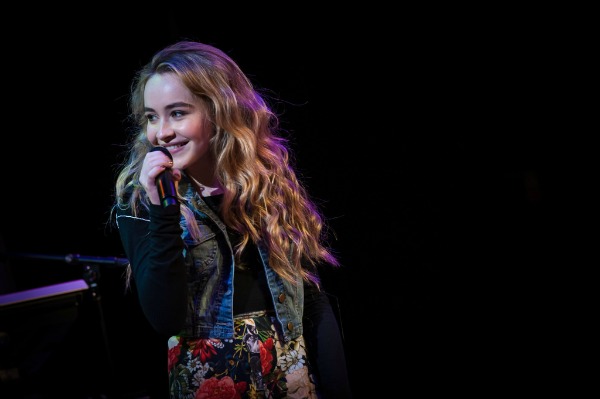 photo by Josh Hallett
 After the morning activities, we headed to Downtown Disney for a special advance screening of DisneyNature's Bears. I was excited, as this was a movie I had wanted to take my girls to see.
DisneyNature's Bears
Bears was as cute and heartwarming as I had hoped, and was a beautiful story. I am not going to give away any spoilers, but I loved how the filmmakers portrayed the similarities between mothers of all species. My heart went out to the precious momma Skye many times. I think all mommas can relate to the joys and hardships of parenting that Skye deals with.
In an epic story of breathtaking scale, Disneynature's new True Life Adventure "Bears" showcases a year in the life of a bear family as two impressionable young cubs are taught life's most important lessons. Set against a majestic Alaskan backdrop teeming with life, their journey begins as winter comes to an end and the bears emerge from hibernation to face the bitter cold. The world outside is exciting—but risky—as the cubs' playful descent down the mountain carries with it a looming threat of avalanches.

As the season changes from spring to summer, the brown bears must work hard to find food—ultimately feasting at a plentiful salmon run—while staying safe from rival male bears and predators, including an ever-present wolf. "Bears" captures the fast-moving action and suspense of life in one of the planet's last great wildernesses—Alaska!  Directed by Alastair Fothergill ("Earth," "African Cats" and "Chimpanzee") and Keith Scholey ("African Cats"), and narrated by John C. Reilly, "Bears" arrives in theaters April 18, 2014, to celebrate Earth Day.
I encourage you to watch this movie with your families. It is – in my opinion – a must-see! You can keep up with DisneyNature on Facebook and Twitter.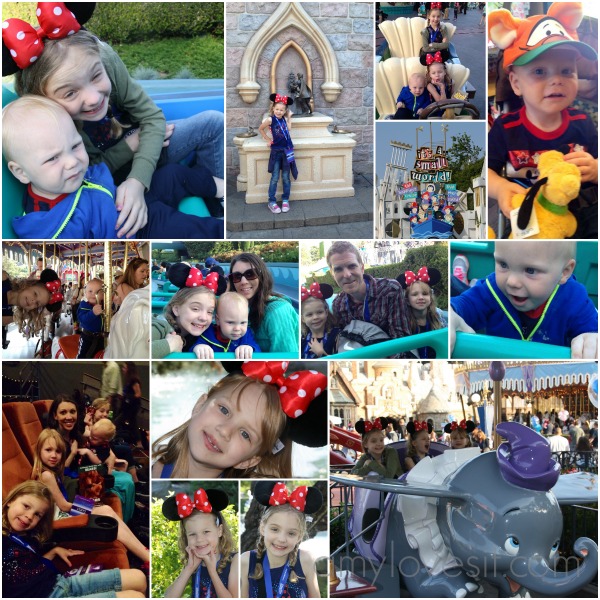 When Bears was over, we ate a bit of lunch and went to the room to get ready for our evening in Toon Town. We did a bit of souvenir-purchasing, and then, we went back to the park to play until it was time for our party. Toon Town was completely closed, just for us, and we had a blast!
Toon-rrific Dinner Partnered with GoGo squeeZ
Our family loves GoGo squeeZ, and we were thrilled that they were sponsoring an event! Their 100% fruit squeezable applesauce products are crafted with high-quality natural ingredients to provide wholesome goodness for sipping, squeezing, and enjoying anytime, anywhere. And handy! These little babies are incredibly handy. I can pass one off to Cam and feed myself supper… with BOTH hands!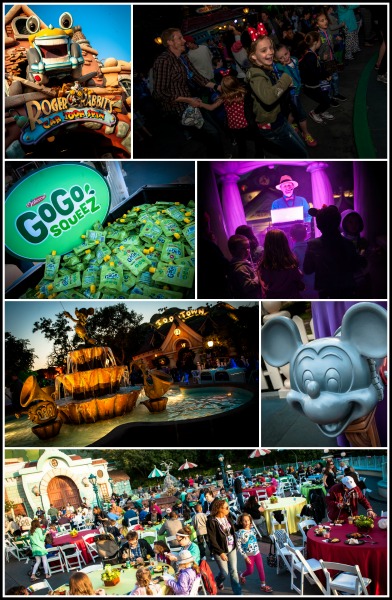 all photos by Josh Hallett
Our families also had unlimited access to ride the Matterhorn as many times as they wanted – for two hours! Cam and I stayed behind, but everyone else really enjoyed it! Shane – who loved it – said it was probably too jerky for me, since I had been having some back problems. I sure didn't mind sitting out so my sweet hubby could ride it more times! He spent an entire day in the park keeping all four kids (not to mention the Thursday evening and Saturday morning!) so I could attend the conference kid-free. It was the least I could do!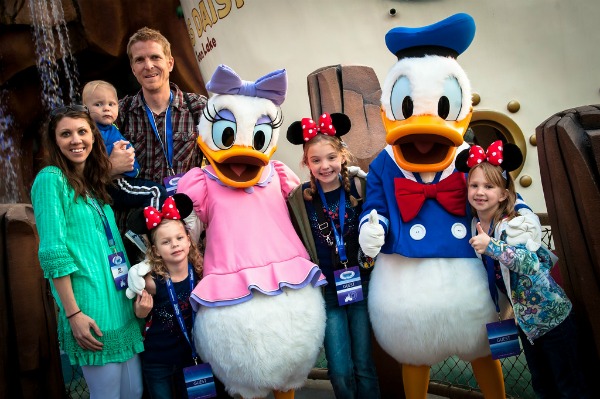 photo by Josh Hallett
When it got dark, we headed to our reserved seating for "Remember… Dreams Come True" fireworks spectacular. We got there early and made two new friends. Cam wasn't too keen on the noise of the fireworks, but everyone else enjoyed them. They were beautiful! Afterward, we were exhausted, but rode Pirates one more time… and Cam slept through it all!
Day five begins very early, but a surprise awaits!
Disclosure: I attended the Disney Social Media Moms Conference and received discounted rates, accommodations, and tickets to various events and attractions, as well as gifts and products from various sponsors. As always, all opinions are mine.