Welcome to Day 5 of my 2014 #Write31Days journey! If you are new here, you can read a little more about me in the sidebar. 

And, ack!!! I realized TODAY that my scheduled post for yesterday did not publish. Oops. Thanks, WordPress! Haha! So, you are getting two posts from me in your feed today.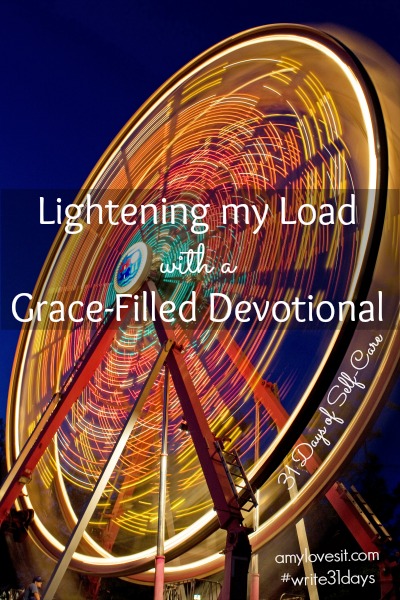 I started this journey talking about feeding my spirit. I haven't been much on devotionals the last few years, as I do good to get Bible time in on a regular basis. Plus, I feel like a lot that is out there just doesn't work with the way I think.
I'm a bit different from many of the women I know. I'm quite sarcastic, tend to put my foot in my  mouth, and the word graceful does not come to mind when you think of me. Also, I'm a bit loud. If you really know me you know I can talk to a brick wall. That's why the post on my introvertedness was a surprise to many of my close in-real-life friends… I tend to talk too much and they know it! I can't get a handle on all of my crazy issues. Ha!
Anyway, I lean toward the pessimistic, and many of the devotions geared toward women don't fit that, at least in my opinion. And I have an over-abundance of the ones that talk about being a submissive wife and keeping a calm voice and all of that (which we all need, I just didn't need another one at this time in my life). I was looking for something that really made me look at Scripture in a new way and a few laughs in-between wouldn't hurt either.
Then, I came across Jen Hatmaker's book Seven. (Ohhhhh, don't get me started on THAT book. Let's just say I wanted to reach through the book and squeeze her neck. Note to Jen: If some crazy brunette runs up to you – after all we, are only about a 4-hour drive apart – and gives you this insane "thank you" hug before introducing herself, it's just me.) Seven led me to find her devotional Out of the Spin Cycle.
Like Seven, Out of the Spin Cycle is written in the sweet, yet sarcastic voice that Jen Hatmaker seems to have down pat. When I'm reading it, I feel like a real person – who is aware of her own shortcomings – wrote it. This is what I need. In the middle of my own mess, reading about someone else's mess is actually refreshing and helpful!
One of the catchphrases on the back of the book is something that has really, really been on my heart lately, "Following Jesus shouldn't be just one more think to do."
Hatmaker takes the words and deeds of Jesus, adds her own funny life stories, and offers grace and encouragement for moms in various life stages. Although these devotions are short, I don't read one every day, more like one or two a week. It's one that you can read on a daily basis, though, and also one I recommend you reread.
For the momma (me!) who needs some extra grace-filled encouragement, I recommend reading through Out of the Spin Cycle.
If you would like to follow along on my #write31days challenge, you can subscribe via email or feed. To follow along on others' #write31days journeys, visit Write31Days.com.

photo credit (top): Ian Sane via photopin cc
photo credit: A Guy Taking Pictures via photopin cc