Welcome to Day 28 of my 2014 #Write31Days journey! If you are new here, you can read a little more about me in the sidebar. 

Walking in Grace and Beauty is one of the blogs that I already followed, and is also participating in the 31 days writing challenge with 31 Days of Fall Fashion. I love her style, and think she always looks amazing.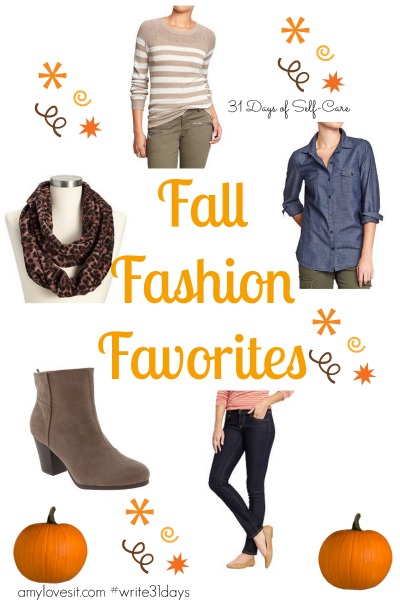 I've always been one to get dressed despite staying home most days. I feel better about myself and more put-together when I wear clothes instead of pajamas. Now, this doesn't ring true for everyone, and that's okay. This is simply what I do. My husband appreciates it, as well.
The stigma for stay-at-home-moms is still yoga-and-pajama-pants-all-day-every-day. I like to go against people's expectations because that's my personality. Rebel to the core, that's me. Ha!
One of the things I enjoy is putting together fun outfits and looking nice. I do my hair and makeup most days because it makes me feel good about myself. And, it's fun! Most days, the only people who see me are MY people, but that's ok. I mentioned my husband appreciates the way I dress up every day, but I do it mainly for my own mindset. It makes me feel ready for the day.
My five favorites for fashion this fall are:
Scarves. I cannot have enough scarves, and I could wear them every single day!
Cardigans. Cardigans and sweaters are so stinky cozy, and I love cozy. I have several sweaters in different weights and colors that enable me to easily mix-and-match.
Boots. Oh my, how I love boots. Boots just scream fall. I recently added these adorable booties to my collection, and would love some of the over-the-knee boots! Love!
Skinny jeans. Yes, you can pull off skinny jeans. That's my opinion, anyway! There are many different styles of skinny jeans, and I encourage you to find the style that works for you. Skinny jeans look great paired with boots of any height, as well as flats and heels. I have a few pair in differing washes. My favorites are the dark wash.
Chambray shirts. These are all the rage this year, and I adore mine. I love pairing it with a long tee shirt, leggings, and boots. That is such a fun and comfortable outfit. Chambray shirts also look amazing with colored jeans, as Cyndi shows here.
Bonus: Animal prints! They're so fun, and a little goes a long way. If you want to incorporate animal prints into your wardrobe, grab a scarf, a pair of cute flats, or layer an animal print tank with a chambray shirt. I love to layer, and fall is the perfect time to begin layering pieces!
What is your favorite fall fashion piece?
If you would like to follow along on my #write31days challenge, you can subscribe via email or feed. To follow along on others' #write31days journeys, visit Write31Days.com.

photo credit: A Guy Taking Pictures via photo pin cc and oldnavy.gap.com