I love sharing sweet stories that kindly and carefully teach a lesson. Tales of Little Overhill: The Proud Chicken fits that bill well.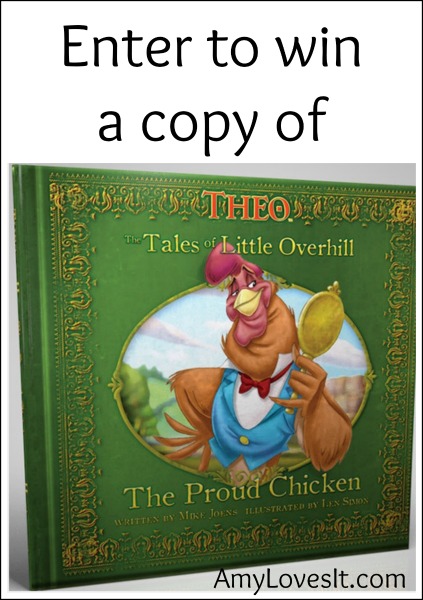 Along with beautiful pictures, this witty and hilarious story is based on the Prodigal Son parable from the Bible. Chadwick is a beautiful rooster, and he knows it. This heartwarming tale shows the prideful Chadwick come to realize the error of his ways.
The kids loved the story. I may or may not have changed voices within the story to mimic the characters, and I'm sure my singing of Chadwick's songs would have made Chadwick cringe.

However, my children found it all quite entertaining.
Here is what my kiddos had to say about the story:
Cam's (age 2) favorite part was, "The singing chicken. La la la la!"
Meleah (age 6) concluded that the book was about a, "sad, dancing chicken." Her favorite parts were when Chadwick was singing on the farm, and when he left the farm.
Reese (age 8) enjoyed when Chadwick was admiring himself in the mirror and when he saw the fat piggies. She said the book was about a, "sad, lonely chicken who did not have any friends. No one liked him because he was was annoying."
According to Abby Grace (age 10), the story was about how God forgives you no matter what you do. Her favorite parts were when he was admiring himself in the mirror and when he sang to the toads.
There were so many funny and cute parts to the story, but if I had to choose a favorite, it would be the pictures. They are absolutely gorgeous! You can see what I am talking about here.
About The Proud Chicken
Theo's Tale of the Proud Chicken is a humorous retelling of The Parable of the Prodigal Son. In a tale that both children and adults will enjoy, Chadwick the rooster learns that pride goes before a fall. He also learns that no matter how far we may drift from God, the love of our heavenly Father will always embrace and restore the repentant sinner. The Proud Chicken was written by Mike Joens and illustrated by Len Simon.
Right now, you can pre-order The Proud Chicken for $12.99, OR you can enter to win a copy from Theo Presents and me!
Enter to Win
All you have to do to enter is leave a comment on this post, sharing what Tales of Little Overhill book you would like to read (to your kids/grandkids/niece/nephews/etc).
This giveaway will close at 8 pm CST next Monday, 2/23. A winner will be chosen via Random.org and contacted via email. Good luck!
Disclosure: I was given a copy of The Proud Chicken for the purpose of review. I was given a second copy to give away to one of my readers. All thoughts and opinions are my own.