Nearly every personal finance blogger has written about the importance of an emergency fund at one time or another. Today, I experienced that reality first hand.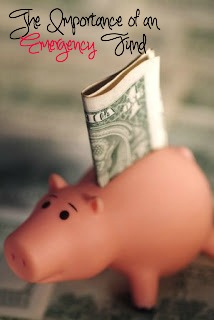 One of my dogs, a rescued boxer, fell ill over the weekend. Unexplained symptoms of diarrhea and vomiting in a 2 year old dog are not good.
So off to the vet we went, with full expectations of a hefty bill. It's a good thing we had him checked, as he had potential intestinal blockage. Two ex-rays, fluids and a shot later, Tank is now on the mend.
And our emergency fund is $330 lighter. Ouch! Thank goodness we have money in place for situations such as this. You just never know what may come up.
A few years ago, that vet bill would gone straight onto a high-interest credit card. I used to believe that credit cards were necessary for potential emergencies. Now, we fund our own emergencies, interest free.
A pet is a huge responsibility, one that we fully accepted when we became pet owners. An emergency fund is especially important for those with pets. After today, I would even recommend a separate emergency fund just for unexpected pet expenses.
Beyond just avoiding more debt, having an emergency fund is actually Biblical. Consider these verses from Proverbs:
"In the house of the wise are stores of choice food and oil, but [the] foolish . . . devour all [they have]" (Proverbs 21:20).
"Go to the ant, you sluggard; consider its ways and be wise! It has no commander, no overseer or ruler, yet it stores its provisions in summer and gathers it food at harvest" (Proverbs 6:8).
Dave Ramsey recommends an initial emergency fund of $1000 for those paying off debt. Beyond that, 3-6 months worth of living expenses is his next step.
Of course, the Ramsey way may not be for everyone, so I encourage you to find what works for your family.
I believe it is important to continue giving what you can, even while saving and paying down debt. There is a fine line between saving and hoarding, as illustrated in Luke chapter 12:
And he gave them an illustration: "A rich man had a fertile farm that produced fine crops. In fact, his barns were full to overflowing. So he said, 'I know! I'll tear down my barns and build bigger ones. Then I'll have room enough to store everything. And I'll sit back and say to myself, my friend, you have enough stored away for years to come. Now take it easy! Eat, drink, and be merry!' But God said to him, 'You fool! You will die this very night. Then who will get it all?' Yes, a person is a fool to store up earthly wealth but not have a rich relationship
with God" (Luke 12:16-21 NLT).
Personally, I do not want a "bigger barn", but a rich relationship with the Lord, and a healthy emergency fund.
Even those without pets will need those funds sooner or later. A flat tire, an appliance repair, an unexpected trip to the dentist. What a relief it is to pay cash for such things! That dreaded feeling as you whip out the plastic, gone.
How has an emergency fund saved you from more debt? Do you believe they are necessary?