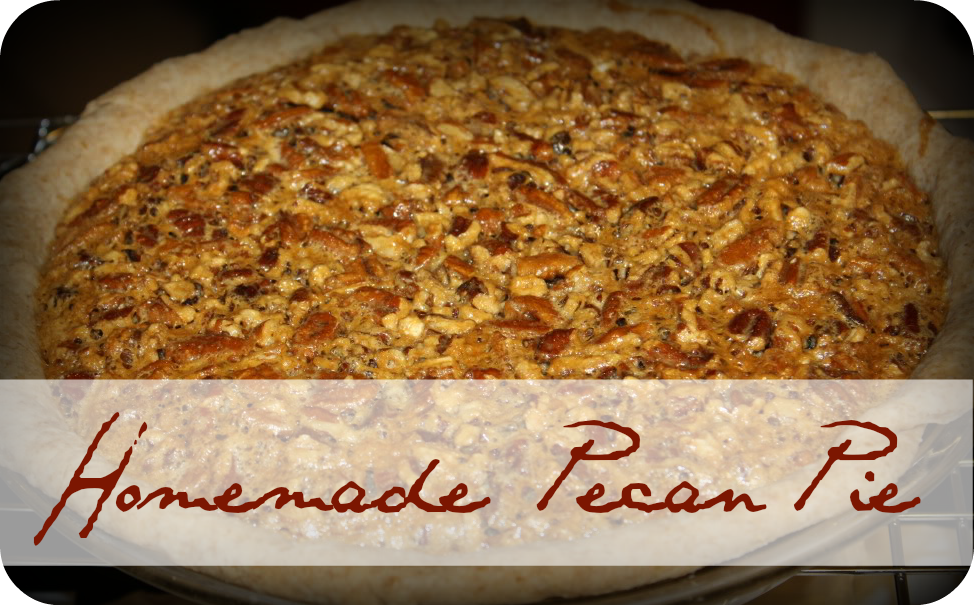 I have to credit my Aunt Rita for this recipe (beyond that, I'm not sure where it came from… but I'm betting my Mamaw and great-aunt Juanita had something to do with it!)
This is the yummiest pie ever. I am serious. Ask anyone in my family what their favorite pie is, and it will be this one. And, I am sharing it with you, my dear readers… just in time for Thanksgiving!
Aunt Rita's Pecan Pie
Ingredients
1 cup sugar
2 Tbsp flour
2 Tbsp butter
3 eggs
1/2 tsp salt
1 tsp vanilla
1 cup white corn syrup
1 cup pecans, whole or chopped
Instructions
Add flour to sugar
Add butter to sugar/flour and cream together
Add slightly beaten eggs, salt, vanilla, and syrup: mix well
Add pecans and stir
Pour into unbaked pie shell and bake in slow 300° oven for 75 minutes (depends on your oven… begin checking after 1 hour, and then check every 10 minutes thereafter), or until pie is not "shaky"
Let sit a few minutes before serving.
Enjoy a warm slice with a nice glass of milk!
Just so you all know, my husband did NOT want me to share this recipe… he wanted the "goods" all to himself (giggle).
This post is linked to: Tempt my Tummy Tuesday at Blessed with Grace and Tasty Tuesday at Beauty and Bedlam, Mouthwatering Mondays at A Southern Fairytale, Food On Fridays at Ann Kroeker's Recipe Swap at The Grocery Cart Challenge,and Foodie Friday at Designs By Gollum, Things I Love Thursday at The Diaper Diaries, The Ultimate Recipe Swap at Life As Mom, and Worth-It Wednesday at Surviving the Stores.