As we begin Week 3 of the Break the Sugar Habit Challenge, I am reflecting on the last two. I can honestly say that I have seen marked changes in at least one of my children with the elimination of refined sugar.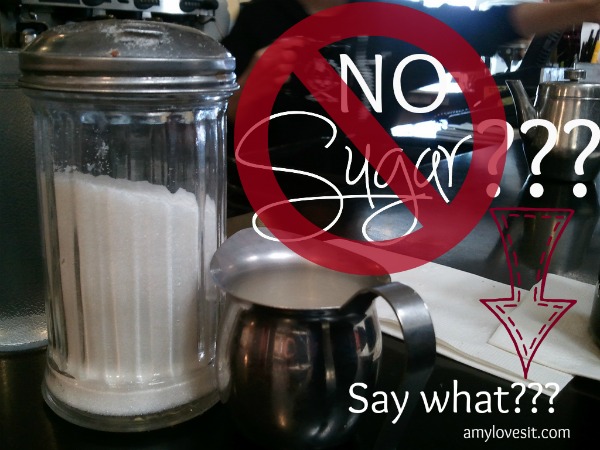 During Week 1, we did really well. As far as I know, we consumed very little refined sugar (Annie's ketchup has organic sugar, but I'm pretty sure it is still somewhat refined)… until Friday. At soccer camp, they had cake. I had no idea they would be serving cake, so I gave the girls a choice. You can guess what they chose.
I was unprepared as to how the sugar in this cake would effect my middle daughter. I knew sugar contributed to some of the behavioral problems we have had with her, but I was truly shocked at just how much it contributed. She went wild. And I don't mean excited-to-be-at-soccer-camp wild, I'm talking non-stop-talking, maniac-giggling, crazy-acting, could-not-control-herself wild. Even Abby was remarking about how wild she was acting.
Shane asked me if Reese had acted this way at all this week, and the answer was no. She had been more than pleasant with very few behavioral issues. Week 2 saw a difference, as well, with more behavioral problems than Week 1, but nothing like that Friday night after soccer camp. She consumed sugary snacks at VBS (with my permission), and I also gave them fast food one day at lunch. I have a better plan for this week, and I am hoping my early conclusions of how sugar effects her will still ring true by the end of it. If we can nip some of those issues in the bud by limiting our sugar intake, I'm all for it!
Short-term benefits
I think one of the short-term benefits of eliminating sugar is finding out if sugar "bothers" you. Like the scenario I told about Reese, we can pretty much say that sugar effects her behavior, and that limiting her intake is a good idea. I know people who have removed sugar from their diets to find that some of their health problems have virtually disappeared. I know this isn't the case for everyone, but the possibility that sugar effects you in an obviously negative way can definitely be worth looking into.
When you limit your sugar, you automatically end up eliminating a lot of processed foods. You end up cooking more real food, and relying on fresh veggies and healthy fats to satisfy the need for "comfort" food. Tossing processed foods has been a goal of mine for a long time, and we have reduced our consumption of those by even more these last few weeks.
As with all short-term benefits, they are, well, short-term unless we continue on with them. My husband recently started running, and ran a 5K at the beginning of this month. If he had only "practiced" running a few times and then attempted a 5K, his time would not have been what it was. He also might not have made it to the finish line at all! To keep those short-term benefits going, we have to keep after it and turn them into long-term benefits.
Long-term benefits
Since it has only been two weeks of no refined sugar, I cannot boast of any true long-term benefits. I can tell you that overall, I feel great and that some complexion issues I was having are completely gone (I realize that could be pregnancy-related, but either way, it is a benefit!).
If we completely removed refined sugar from our diets, I am certain we would be in much better health. The reality of eliminating it is a bit daunting, however, but is doable. Too much sugar in our bodies leads to many health problems that I believe could be lessened if we reduced our sugar consumption.
I am not trying to vilify one food, but the effect of sugar on our bodies does more damage than I think we all realize. And because it is in everything, it is amazingly hard to avoid completely. I have probably run this in the ground, but knowing what is in our food is so important. Just like everything else, I believe in making informed choices. I've mentioned before that I am a control freak, and believe that we should be intentional in what we say, do, and yes, even eat.
Does removing sugar from your diet eliminate all health problems? No, it doesn't. And while I am sure we will not be able to completely, 100 percent eliminate all sugar all of the time, we will continue to be vigilant, read labels, and to limit it. Living where we do, our options are beyond abundant. I feel like this is what works for our family, and as always, I encourage you to do what works for yours.
Do you have any long-term benefits of reducing/eliminating refined sugar to share?
Photo by: allboutgeorge
And if you are just now jumping on board, you can check out the other posts in this series, plus see how Mandi and her family are breaking their sugar habit.