Honestly, there isn't much to report. I'm feeling pretty much the same this week as I have the last few weeks.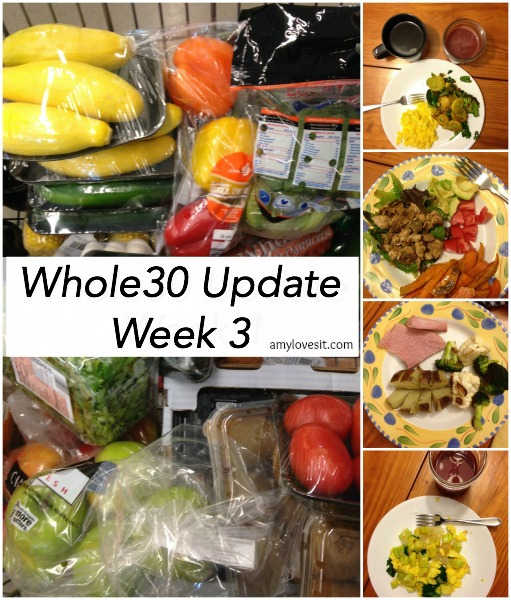 I think I'm not feeling major changes because we were eating fairly well before we began the Whole30. Yes, we were eating grains (homemade bread, anyone?!), beans, and dairy (raw milk), with some sugar, but it was mostly homemade stuff. Not that homemade sweets are set apart from anything else, and we may have had a few cinnamon rolls over Christmas, but for the most part I was controlling the amount of sugar our family consumed.
I still don't have much of an appetite, which is mind-boggling to me! I have been battling congestion for the last two weeks, so I know that is contributing to my lack of appetite. However, I have not been hungry on a regular basis since we started the Whole30, so who knows? (Just so we are clear, I am eating well, I'm just not hungry.)
Shane, on the other hand, is starving at every meal. He has come to love veggies and eggs for breakfast. Eggs were always an easy start to the day, but now he wants vegetables all. the. time. Score! Unless I pull out the cauliflower… he refuses cauliflower. I have forced him to try it a few times, but he is adamant now. No more cauliflower. Ha!
Am I missing/craving anything? Not really. I miss the ease of some meals, because we are gone a lot and throwing together homemade mac-n-cheese is not an option right now. The one food I miss is homemade granola. I'm really trying to not think about granola.
Over the weekend, I attended the Homeschool Moms' Winter Summit, and my family accompanied me. We packed a ton of Whole30 compliant foods and ended up faring pretty well. The one snag I hit was lunch when they served a delicious salad with feta cheese. For one thing, I cannot have feta cheese, thanks to a weird allergy. Another thing, dairy is not Whole30 compliant. So, I was the weird one at my table picking off the feta cheese and piling it on the dessert plate. I'm sure my dinner companions thought I was nuts, but no one said a word. Ha! I may have had a bit of whipped cream as well, because it was on top of my fruit cup. I attempted to avoid it, but it wasn't easy. At least I didn't sit at the place that had this massive chocolate dessert plopped in front of it. Who only puts ONE chocolate dessert at a table full of women anyway?!?!
One of the meals I made last week that was a hit was Oven Baked Chicken Fajitas. I think I'll bring these to our Super Bowl party on Sunday, with some tortillas and sour cream for those not on the Whole30.
On the to-make list for this week: Paleo Taco Salad and Shrimp Scampi Zoodles.
That's it! We are down to 10 days remaining. #wecandothis 😉