No, Cam wasn't born a year ago – yet. However, I was actually dilated to a 3-4 on this day one year ago. I have never ever been dilated early, and after my OB appointment, I had regular contractions (every-three-minutes-regular) for SEVEN hours. Shane kept begging me to call the hospital, but I refused. I needed to *know* these were real. They ended up stopping completely at 10 pm that night, and to say we were disappointed was an understatement.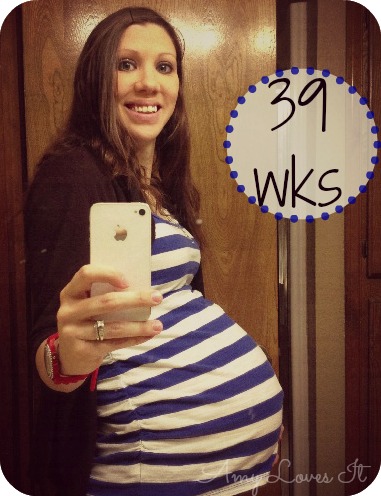 I was pretty on-edge, because I had a positive GBS test at 36 weeks, and being allergic to the penicillin they normally use, would be subjected to TWO four-hour drips before I would be deemed "safe". That didn't coincide with my desire for a completely natural, unmedicated birth. We had reluctantly made an induction appointment for the following Tuesday evening, but in my heart, I knew I wouldn't keep it, even if I didn't have anymore contractions.
That was Friday.
On Saturday, I still had no contractions. And against my better judgement, Shane and I kept our date that night… going 1.5 hours south…. 3 hours in the OPPOSITE direction of my hospital. Since I had mercilessly teased Shane about delivering the baby on the side of the road, he was really nervous, and I'm not sure he enjoyed the date at all. I was really uncomfortable physically, but determined to finish what needed to be done before Cam made his arrival. Shane visibly relaxed and his sigh of thankfulness when we pulled into our garage could have been heard 'round the world. #nolie
I went to bed that night relieved and feeling that I was fairly prepared to meet my son. However, in the back of my mind, I kept thinking that I should pack my hospital bags. For Abby and Reese, I was ready WAY early, only to realize I had more than enough time. With Meleah, we had a scheduled induction the night before (because of another positive GBS test), so there was no rush to pack. Surely, there wouldn't be a need to pack early this time either, right? Did I mention that I was slightly nutty and more than a little surprised to find out I was dilated at my Friday appointment? You would think that would clue me into, yes-you-might-want-to-have-a-bag-packed-just-in-case-you-actually-go-into-labor-quickly. Have you figured out I'm a little bit crazy, and I ignored that voice? Yes, I'm sure you have.
Cam's birth story – the "before" part – to be continued. Yes this is a cliffhanger. You're welcome..