I struggle with OCD, anxiety, perfectionism, and not handling chaos very well. Messes drive me mad. And don't get me started on piles. Ha!
It may seem strange, but one of the ways I keep a handle on my anxiety is by making my bed every morning. I know it isn't much, but seeing a neatly made bed gives me a huge sense of peace, even when everything around me is chaos. The process of smoothing out the sheets and straightening the bedspread is very soothing to me.
When I'm struggling, I can go into my bedroom, look at my bed, and breathe. Calm in the middle of the storm. Aahhhh.
And just so you don't think my bedroom is perfect, here is what the rest of it looks like.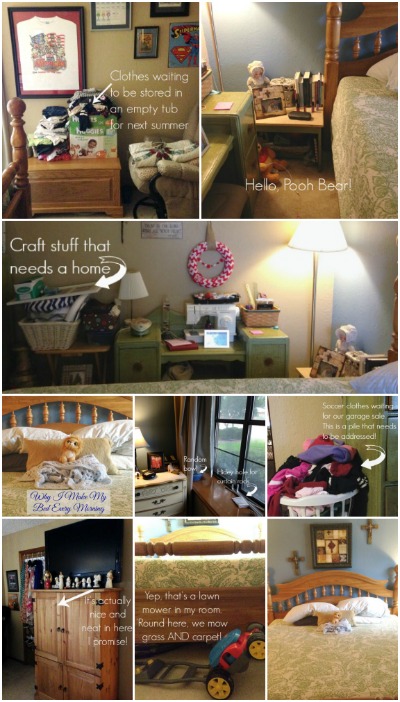 Nope, it's not fancy. I don't have designer pillows or name-brand bedspreads or specialty curtains. Half-price decor from Hobby Lobby, hand-me-down-doesn't-match furniture, curtains from our wedding shower, and a bedspread from TJ Maxx; I like simple, and simple is what I have! 
And yes, that is a lion and a handmade knit blanket (thanks, Britt!) sitting on my bed. Those are two of Cam's must-haves to sleep with. And yes, he still sleeps with us. I don't mind because he likes to snuggle with me!
Despite the lack of perfection in the entire room, my neatly made bed and mostly-picked-up room is a source of comfort for me.
What are the "little things" that help YOU keep a sense of peace in the middle of chaos?