Welcome to Day 8 of my 2014 #Write31Days journey! If you are new here, you can read a little more about me in the sidebar. 

Skin care is something that is important to me. Following the birth of my third daughter, I struggled with constant blemishes, mainly on my forehead. I seriously had a harder time with my skin at age 27 than I did in high school.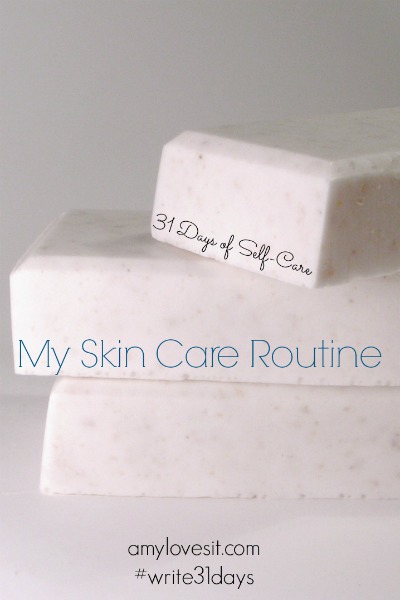 I tried a few different face washes, including some natural face wipes, but nothing changed. While I figured it was simply my body adjusting to the changes of pregnancy/new baby, my skin never cleared up. In fact, it started to worsen. Ugh.
Then I read about the Oil Cleansing Method, and thought that anyone who washed her face with oil to help clear up blemishes was out of her mind. And then I tried it, and ate my words.
After consistent use at night to remove my makeup, my skin began to clear up. Whether it was more age/body changes, simply removing commercial face washes from my routine, or a combination of the two, I have not had anymore issues with blemishes since I began using the OCM. Even throughout another birth/new baby, very rarely have I had a blemish at all.
Last year, I began mixing up my own night cream to apply after washing my face. I had been using straight coconut oil for awhile, and loved it. After I really started using my essential oils, and researching what oils would be good for skin, I mixed up some amazing night cream using Myrrh and Frankincense essential oils and coconut oil. My homemade cream has an incredible aroma, and makes my skin feel soooo soft. I absolutely love it!
In the mornings, I rinse my face with water to help wake up. I alternate between using my night cream and Young Living's ART Day Activator that I received with a promotion a few months ago. I don't like heavy stuff on my face, and avoided facial lotions for years because of this. The ART Day Activator is very lightweight, and I can't feel it at all. This moisturizer is infused with Sandalwood and Frankincense essential oils.
As for body lotions, I really don't use those often, mainly because I'm lazy pressed for time. When I do, I love the lotion bars from MadeOn Lotion.
One of the easiest ways to take care of myself is to keep my skin healthy. A clean face is a happy face. At least, that's what I like to remind my kiddos. Ha!
Do you have a favorite skin care product?
If you would like to follow along on my #write31days challenge, you can subscribe via email or feed. To follow along on others' #write31days journeys, visit Write31Days.com.

photo credit (top): savor_soaps via photopin cc
photo credit: A Guy Taking Pictures via photopin cc