Get a head start on homemade Christmas gifts with some fantastic natural, homemade recipes!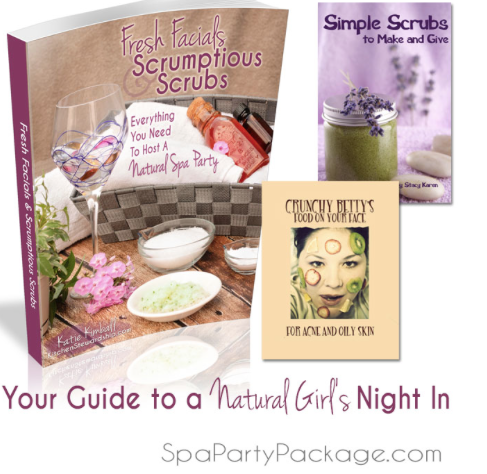 Discover ways to beautify and care for your skin without toxic chemicals (or big price tags). Feel truly "pampered" and relaxed, ready to return to life as an employee, mama or busy woman with renewed energy.
Host a fabulous natural spa party to pamper your friends, moms' group, family, or even a girls' birthday party – a gift for those you love that keeps on giving!
Make beautiful and inexpensive gifts for the holiday season – teacher gifts, Secret Santa, stocking stuffers, and for the aunt who has everything – one whiff of these scrubs and you'll be in love.
Organize a "make-and-take" party where each guest leaves with a dozen homemade gifts, natural hand and foot scrubs for a fraction of the price in a store or other home-party organization.
The At-Home Spa Package includes:
Simple Scrubs to Make and Give by Stacy Karen of ADelightfulHome.com (60 pages, $3.99 value)
Crunchy Betty's Food on Your Face for Acne and Oily Skin by Leslie Martin of CrunchyBetty.com (68 pages, $7.99 value)
Fresh Facials and Scrumptious Scrubs: Everything You Need to Know to Host a Natural Spa Party by Katie Kimball of KitchenStewardship.com (178 pages, $8.99 value — ONLY available with this package!)
50% Katie's other eBooks at Kitchen Stewardship – real food recipes your family will love
50% off Stacy's DIY Face Masks and Scrubs at A Delightful Home
10% off anything in Leslie's storefront, to buy non-toxic facial products if you're not the DIY type
15% off the DIY kit at MadeOn Hard Lotion – make a few dozen gifts without having to source unfamiliar ingredients
Free printable labels for jars of scrubs
Free printable recipe cards for scrubs
I actually own the Simple Scrubs eBook, and can tell you this is a fantastic resource for making different homemade scrubs. If you are into that sort of thing for yourself, then this will give you some new and different recipes. They're very easy to make, and would make some really fun Christmas gifts – I should know… I gave them out one year, and they were a hit!

Special offer ends at midnight EST on Friday, October 17, 2014.
Note: The landing page mentions a "spa party," and you can totally do that! Parties can be fun if you like that sort of thing. Personally, I think this is a great opportunity to load up on natural homemade gifts for Christmas, rather than party!