Welcome to Day 18 of my 2014 #Write31Days journey! If you are new here, you can read a little more about me in the sidebar. 

One of my favorite ways to stay on task and keep efficiency is to set a timer. This is especially important when I am on social media. Facebook, Instagram, Twitter, reading blogs, whatever, can turn into a major time suck.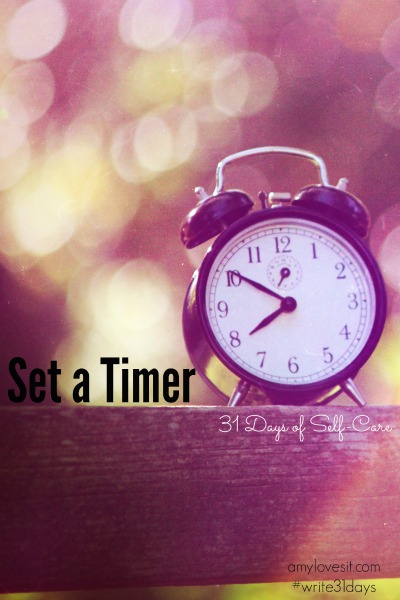 You know how it goes: you get on to check one thing and five, ten, forty-five minutes later you realize you are still on social media. Sometimes, this is fine. Maybe it's your me time and that is how you want to spend it. No worries. However, if you are really needing to get a few things accomplished, setting a timer can remind you that you are also working. It helps you escape the haze that can come with social media. Believe me, I understand. I also like setting a timer when I'm working on the computer. When the alarm goes off, it reminds me to get up and stretch, or get a change in scenery. I can get lost in my computer, and the time flies by. The timer keeps me accountable.
Setting a timer also helps me get my rear in gear. If I am dreading a task, like folding towels or cleaning up the kitchen, I set a timer for fifteen minutes and scurry to get everything done within that timeframe. I am very competitive and I don't like stuff weighing on my mind. I can have a happy conscience AND a clean kitchen without spending a ton of time doing it.
And what happens if you don't finish that task within the timed time? If it's not a big deal, and you can handle the mess that is left, move on. If it will really bother you, take stock of what is left and give yourself a reasonable amount of time to finish it and reset the timer.
I try to not set the timer for more than fifteen minutes at a time, simply because I usually get distracted or interrupted after that length of time anyway. Shorter or longer may work better for you. Always do what works best for you and your family.
Setting a timer is also helpful when getting the kids to clean up their rooms or help you pick up before day's end. Throw on some music and make it fun, and the time will fly by AND you will have accomplished much.
If you would like to follow along on my #write31days challenge, you can subscribe via email or feed. To follow along on others' #write31days journeys, visit Write31Days.com.

photo credit (top): Βethan via photopin cc
photo credit: A Guy Taking Pictures via photopin cc