One of the ways I love to learn new things is made possible through webinars and podcasts. Although I am a visual learner, I still enjoy listening to classes and lectures while I am doing other things, like getting ready in the morning. It makes multi-tasking doable for me!
I have recently purchased a few more courses from the Money Saving Mom store, and I cannot wait to dive into them.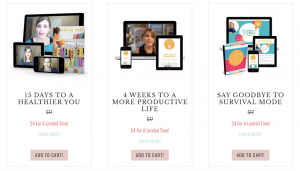 Four courses that would be fantastic to being your new year with are on sale for $4 each, for a limited time!
Make Over Your Year (regularly $17) — just $4!
15 Days to a Healthier You (regularly $15) — just $4
4 Weeks to a More Productive Life (regularly $17) — just $4
Say Goodbye to Survival Mode (regularly $17) — just $4
See all of the sale courses, and other courses available.
The sale officially begins Monday, but you can snag yours now! The final day of the sale, and when these four courses will become no longer available, is Thursday, January 9.
Make Over Your Mornings has been my favorite, and while not part of this sale, I highly recommend adding it in! It is easy to understand and simple to implement.