It has been a minute since I shared my cold brew coffee recipe, but it is still a favorite! Even my kids love to have it as a treat.
I saw an account on Instagram that shared a sweet cream cold brew recipe, so I had to try it, since I l o v e the Starbucks version so much! I'm pretty much a dumper, not a measure-er, but the good news is, you can tweak this to suit your own tastebuds.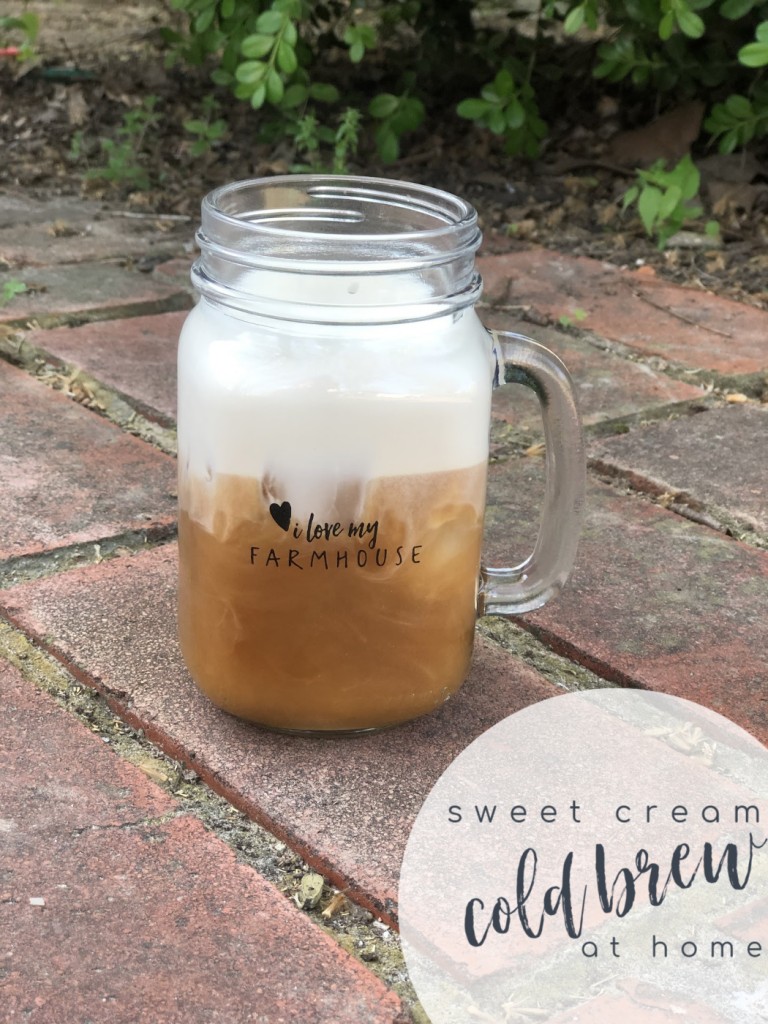 Here is the basics of what I did:
Sweet Cream Cold Brew Coffee at home
Fill a glass with ice.
Fill the glass 3/4 of the way with your favorite cold brew coffee.
In a measuring glass (or another cup, as long as it is larger than the liquid you are frothing) add 1/8 – 1/4 cup heavy cream.
Add a splash of vanilla to the heavy cream.
Optional: add your choice of sweetener. I use a dollop of maple syrup or about a Tablespoon of organic sugar.
Froth the heavy cream, vanilla, and sweetener until foamy, usually about 30 seconds or so.
Pour frothy liquid over your cold brew and let it settle for a minute.
Enjoy!
Grab a milk frother (you definitely want one of these!). I got this inexpensive one, but I was really eyeing this one. Here's another option for hot/cold versions of foam/froth. Maybe one day! FYI, the inexpensive one works just fine!
Alternatives to making your own cold brew are this ready-made brew from Starbucks, this ready-made brew from Java House, or this ready-made-but-you-still-have-to-brew-it (but don't have to strain it!) coffee.