This Apple Bread is incredibly moist and delicious! It's a favorite in our home, and my Dad loves it too. The original recipe is from my great-aunt Vera.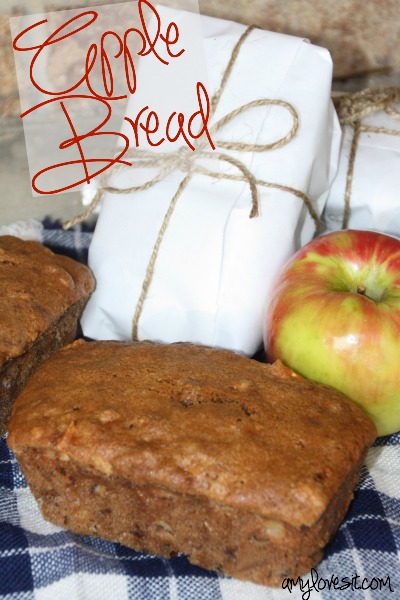 If you need a simple and tasty dessert to take to a holiday get-together, this is wonderful. We made several mini loaves to give as gifts this Christmas, and this bread was a hit!
Apple Bread
Mix together the wet ingredients:
3/4 cup palm shortening, melted and slightly cooled (any shortening will do, but we prefer this brand)
2 cups sugar
3 eggs, beaten
3 apples, peeled and chopped (I used one Granny Smith and two Jonagold, but you can use whatever combination you wish)
1/4 cup pineapple juice
2 tsp. vanilla
11/2 cup pecans, chopped (optional)
In a separate bowl, sift the dry ingredients:
3 cups flour
1/2 tsp. salt
1 tsp. baking soda
3 tsp. cinnamon
Gently fold the dry ingredients into the wet. Scoop into two loaf pans, or four mini loaf pans. I like to spray the pans and then use parchment paper, especially when gifting, as it keeps the bread nice and smooth-looking. When using the mini loaf pans, I find it is easier to set them on a cookie sheet when baking, as it makes rotating them (if needed) much easier.
Bake at 325 for 1 hour and 30 minutes to 1 hour and 40 minutes, rotating every 30 minutes if necessary. Bread is done when a toothpick inserted in the center of the loaf comes out clean, and top is nice and brown. Remove from oven, and let rest on a cooling rack for five minutes before removing from the loaf pans. Keep the loaves on the racks until completely cooled. Wrap in freezer paper or butcher paper, tie with a ribbon, and gift; or slice it up and enjoy with a nice glass of milk!
Apple Bread is easily made in bulk and frozen!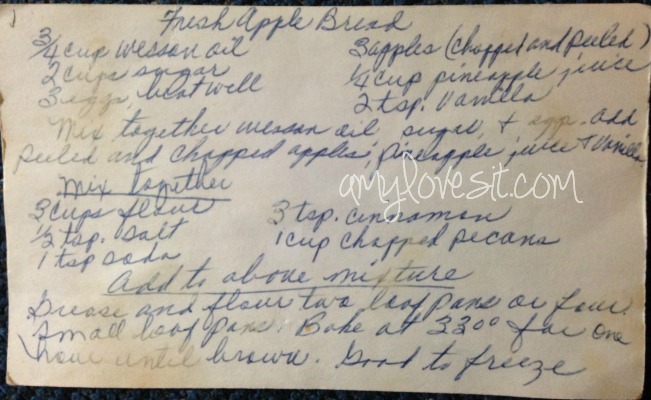 The original recipe. Love!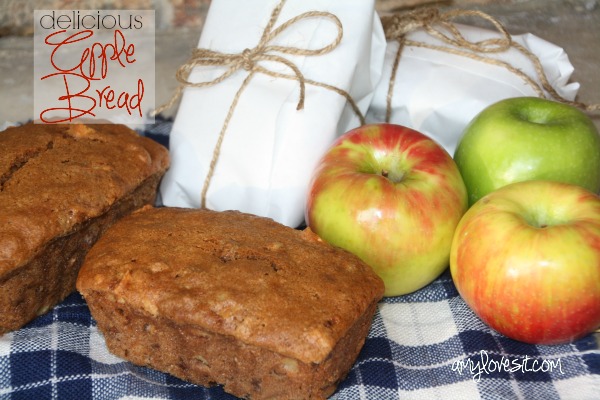 Yum.