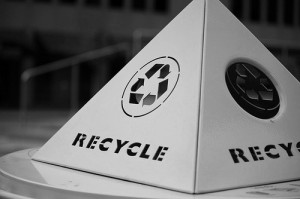 Recycling.
I would so love to have access to a recycling center!  I abhor throwing away perfectly good recyclable items!  But, we do not have a recycling center anywhere near my darling small town.
A few tips I do have:
If you are not near a recycling center, see if your local animal shelter can use your old newspapers.
Collect empty soda cans and tabs for your child's school (do they still do those types of "fundraisers"???)
You know what I do with my empty containers and plastic bags… but what can I do with other recyclable items besides throwing them away?
So, I am asking YOU readers!
What are your recycling tips and tricks?  Do you have ideas for recycling in a small town?
Photo credit: Quality Frog