With the Super Bowl coming up (sigh… neither one of my teams made it), I thought I would post one of my favorite snack dips, the cheese log.
My husband devours this whenever I make it. It does not last long in this house!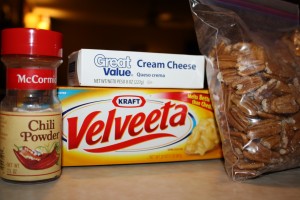 Cheese Log (my Mother's recipe)
1 lb

fake cheese

Velveeta
8oz cream cheese
1/2 cup finely chopped pecans
chili powder
Put cheese, cream cheese, and nuts in a bowl, and let it set out at room temp until soft.
Mix well, and roll into "logs".
Sprinkle chili powder onto wax paper and roll log to coat.
Store in refridgerator.
Serve with whole-wheat crackers (this makes it more "nutritional", since we have fake cheese and all).
And for those of you who are wondering, yes, I am a Cowboys fan. My other team is the Minnesota Vikings (Adrian Peterson is a former OU player… I am an OU fan… and now a Vikings fan, too!). Who will I be cheering for in the Super Bowl? You will just have to wait and see

This post is linked to Tasty Tuesday, Tempt My Tummy Tuesday and Ultimate Recipe Swap