I'm all about quick and easy when it comes to breakfast. With four kids who seem to be s-t-a-r-v-i-n-g every. single. morning (can I get an Amen? Ha!), quick is the order of the day.
French toast is a huge hit with the girls. With the addition of vanilla and a touch of cinnamon, French toast is a little sweeter – and a lot faster to make – than pancakes.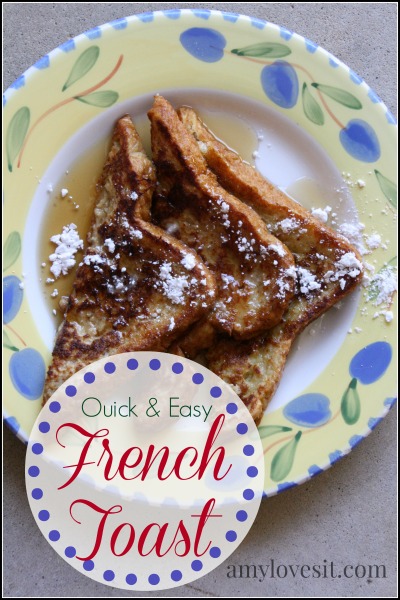 Quick & Easy French Toast
6 slices of bread
2 eggs
2 tsp vanilla
½ tsp cinnamon
pinch of salt
½ cup milk
butter for griddle
In a shallow dish, whisk the egg, vanilla, salt, and cinnamon. Next, whisk in milk. On heated griddle, melt a bit of butter. You don't need a ton, just enough to keep the bread from sticking. When the griddle is ready, dip the bread in the egg mixture, turning to evenly coat both sides. Place bread on the griddle and let it cook for a few minutes before turning. Each side should be nice and brown. Cut the bread in half and serve with syrup and a sprinkle of powdered sugar!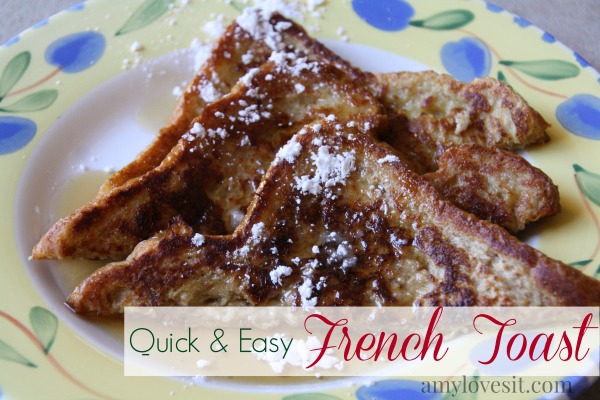 Delicious.
What is your favorite topping for French toast?