For many people, Starbucks is a not-so-frugal splurge that can quickly become an addiction… especially around this time of year. Those pumpkin spice lattes and chai tea lattes have a special soul-soothing and mind-calming quality to them. Nothing says Autumn quite like a warm conversation with a friend and a delicious drink in hand.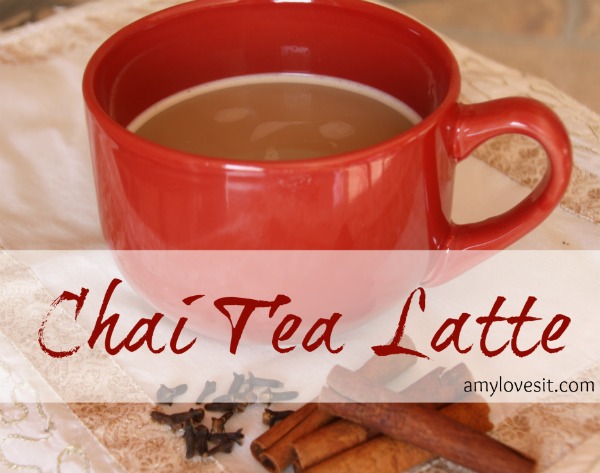 Why not bring Starbucks home?  Create your own Autumn atmosphere.  Light some Fall-scented candles, play some relaxing music, pull up a chair at the table, invite a friend over, and make your own Chai Tea Lattes.  You could even go all out and bake some pumpkin muffins.
You'll enjoy it just as much as Starbucks, and it will save money.  Why pay $5 or more for a drink you can easily make at home for pennies?
This easy recipe tastes almost identical to the Starbucks Chai Tea Latte.  In fact, I might be so bold as to say it's a tiny bit better.  😉
Homemade Chai Tea Lattes (2 servings)
Ingredients:
2 giant mugs
4 organic chai tea bags
water to boil (enough for 2 servings of tea)
2 cups whole milk
1/4 cup desired sweetener (sugar, brown sugar, stevia, turbinado, etc.)
4 Tbsp French Vanilla refrigerated non-dairy creamer
whipped cream and nutmeg, if desired
Directions:
Place 2 chai tea bags in each mug.
Boil enough water on stovetop to fill each mug about 3/4 full.
Pour boiling water into mugs with tea bags.  Let tea bags steep for about 4 minutes.  Remove tea bags.
While tea is steeping, make the creamer part:
:: Place 2 cups milk, 1/4 cup sweetener of your choice, and 4 Tbsp French Vanilla creamer in a pot
:: Heat on medium low heat until hot
:: Pour into mugs that already have tea
:: Taste for desired sweetness.  You may have some creamer left over, depending on the size of your mug and how sweet you like the drink to be.
Serve with whipped topping and nutmeg, if desired.  It is great as-is, though!
Enjoy!
Special Note:
I originally tried making this with 1 tea bag in each cup, but I found that I couldn't get the perfect ratio of sweetness to tea spice.  It was either too spicy or too sweet.  I finally decided on making the tea with 2 tea bags.  This brought out the strong flavor of the tea, and then I was able to add just the right amount of creamer until my desired sweetness.  You will probably have some creamer left over.  It might even be enough for another cup of tea.  Also, it is very important to use giant mugs, since the flavor of the tea is so strong.  You'll want to have enough room to play with the creamer-to-tea ratio a bit.  🙂  Plus, giant mugs are always more fun!
About Meagan Newsome
Meagan authors Frugal Fun & Fortune, where she writes about saving money, giving to others, delicious Vegetarian recipes, simple living, and her life adventures. Her greatest passions include chasing after God wholeheartedly, social justice and being a good wife. You can connect with her on Facebook and Twitter.
Read more by Meagan ->