Welcome to Day 23 of my 2014 #Write31Days journey! If you are new here, you can read a little more about me in the sidebar. 

One of my favorite things is family time. When all six of us are together and can just be. Family time doesn't have to be fancy or expensive, and can be incredibly soothing to the soul!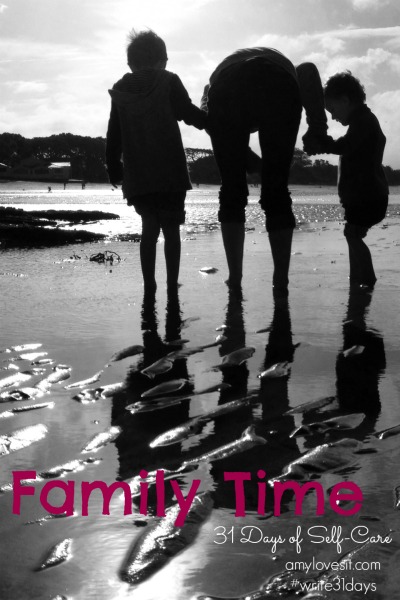 5 Ideas for Family Fun
Game Night
Many families do a game night on a weekly basis, but you could rotate it with some of the other ideas. Our family enjoys playing Checkers, Dutch Blitz, Story Cubes, and Qwirkle. I think we will introduce Monopoly as a Christmas gift. Every year, the kids get at least one new game! I also can't wait to introduce them all to Scrabble! Abby Grace also wants to learn to play Chess.
Walk/Bike Ride
This is one of our favorite activities! All this amounts to is loading Cam up in the stroller and walking around our block when the sun begins to set. Sometimes the girls and Shane get on their bikes, while Cam and I walk. It is the easiest thing we do all day, and we do it together!
Movie Night
These are fun for every once in awhile, as Cam is still young and if he is not into the movie, then it can be hard to watch! Most of the time, he will sit and watch it, and we probably have movie nights at home every few months or so. Sometimes, we will even go grab a "treat" (aka a fast meal out) and bring it home to enjoy while we are watching the movie.
Reading Before Bed
Another really easy one is reading a story before bed. Sometimes, we pile on the couch, and other times we pile in a bed. Either way, reading a story or two before bed is always fun. (Well… there are four kids, so this can also be a good time to argue, but we pretend it's always fun, right?!)
Camping
This activity is our favorite vacation. It is more expensive than the other ideas, but Shane insisted I include it. Camping together for a week is an opportunity for family bonding like no other. We always have so much fun!
We have access to a camper trailer, and are blessed to live near very nice camping grounds. Some families prefer tent camping, and that is great. If you ever get the chance to go camping as a family, I highly recommend it!
What is your favorite family activity?
If you would like to follow along on my #write31days challenge, you can subscribe via email or feed. To follow along on others' #write31days journeys, visit Write31Days.com.

photo credit (top): Kong_ via photopin cc
photo credit: A Guy Taking Pictures via photopin cc