I've been pondering some things lately. Actually, they've been circling 'round in my head for quite some time. I don't know if I can articulate these thoughts or not.
I've mentioned my struggle with my role as a pastor's wife. I don't speak about it as much as I probably should, simply out of respect for my husband and our church. For the record, our church is not a difficult or horrible situation. Our church is not perfect, of course, not unlike any other on the planet. The problem, for the most part, lies with me.
Did you know, I am even less at ease with being a pastor's wife than I was when I originally wrote that post? I've wondered many, many times why God chose my husband to have a heart for ministry, but it feels like I was not included in that. I've thought for countless hours about why the Lord has not worked on my heart more in this area. Is it me? Am I more open to "success" in other areas and not open enough in the area of ministry? Honestly, I'm not sure. Maybe I feel like I'm more open to a heart change in my head, but I'm really not. I find it odd that God would place two people with completely different ministry desires (and I mean Shane is truly built for it, while I'd rather hide under a rock!) in a marriage, and keep those desires completely opposite of one another. However, I don't live in the mind of God, so maybe He has a good reason. It certainly keeps you humble… among other things.
Do I believe God blessed certain people in financial, leadership, ministerial, etc, ways? Absolutely! Do I believe He probably didn't just look down one day and say, "Hey. Those people need a break. I'm going to snap my fingers and their ______ is going to take off and be incredibly successful." Um, no. I believe God gives us all a "head" for something, and when we figure it out, we take it and run with it. Does all glory go to God for that? It should. However, He doesn't give everyone a "head" for ministry or leadership or whatever it is.
We can look around at others, friends, people in the same business or stage of life, and see their supposed successes. Maybe they've risen to the top in their respective fields or industries in record time, while you are still sitting on the sidelines. It really stings when you are working your tail off and everything you've built begins to crumble, despite your best efforts, and others continue to simply rise. It can also sting when those people claim that, "It is all because of God." and here you sit, working and praying and trying, and it looks like God has simply chosen to not bless you. Ouch, right?
This type of thinking can be easy for me to become bogged down in my own self-worth. I've been blogging for seven years – that's almost ancient in blog time – and I'm nowhere near well-known. Don't get me wrong, I love writing, but life has gotten in the way, especially lately. Our homeschool has become more intensive, unexpected outside events have occurred, and I've had to relegate things I love to the sidelines. (Side note: my goal was never to be important, and blogging has taken me places, given me opportunities, and blessed me with friends unlike anything I could have dreamed.) I've been working a business for two years, and I'm nowhere near the top. In fact, I've been at the same place for around eighteen months, with the last two of those being the absolute worst. Pretty discouraging, right? Especially when those businesses are needed to help pay the bills.
I could dwell on how it hasn't just "happened" for me like it has for others, and I'll be honest – sometimes I do. Sometimes, I wonder why we still struggle on a daily basis, even though we work really hard. What can I say? I'm human. However, there are bits and pieces we don't see plastered all over Facebook. In fact, if you look at my personal feed, it looks like I have very little going on in any area of my life – I don't share much. I have my reasons, and a big one is that I don't care if the people on Facebook see anything I do. The important people in my life know what is going on because I share with them, not because I share it on social media.
Okay… enough ranting about social media. Ha! What we don't see includes things like, we are ahead in our schooling (I have the entire year planned out, with days reserved for time off AND baby time). With the exception of one child in math, we are around a week ahead, and I'm beyond ecstatic, because it gives us even more wiggle room. My house has stayed tidy for an entire week. As someone with incredible OCD and perfectionist tendencies, who has also chosen to have children, this is a miracle. I've smiled a lot this week. Every week, I have at least one person compliment how polite and well-mannered my children – especially my two oldest – are. Again, as someone who tends to be hard on herself and others, this is a delight. Yes, my children drive me crazy on a regular basis, but hearing genuine comments on how they interact with others is music to my ears.
My point is, it is easy to focus on our own struggles while excluding the blessings we have been given. It is easy to size up someone else's supposed successes and miss his or her struggles and faults. It doesn't make our struggles any less real or important, and we should always strive to do better, but let's not minimize our blessings by focusing on comparison, negativity, or discouragement. Does that mean we will never encounter any of those? No, of course not. We are all human; it will happen. We just don't need to dwell on it.
I mentioned earlier that I have major perfectionist tendencies, so dwelling is something at which I am really talented. I also am prone to brooding and negative thoughts. I'm also quite sarcastic, with a the glass is half-full disposition. Bless the hearts of my friends who put up with me, right?! I am a proud card-carrying member of the Introverts club, so naturally, any event that requires leaving the house is mentally taxing for me. I don't let that stop me – most times – and I fight through it. After all, the groceries have to be purchased in order to eat! It's like those people in your life who are constantly mouthing your life choices – don't give them the space in your mind, heart, or life. I like the way Melissa Poepping says it – put those people on a time-out shelf until they come around. (They may never come around.) So, do the same with the comparison and woe-is-me… recognize them and then put them on a shelf and focus on the good around you.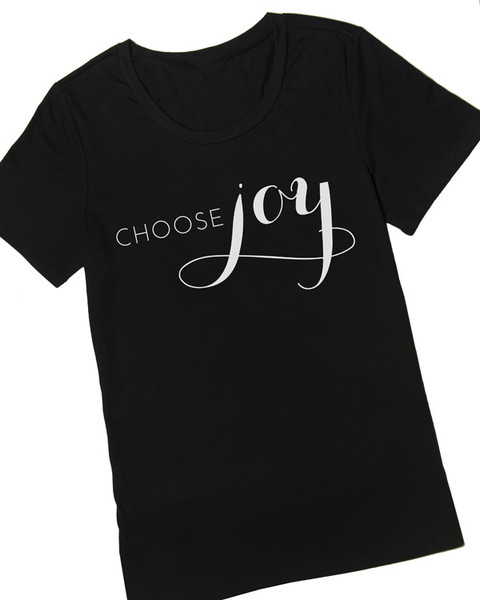 Choose joy. I really should wear this shirt every day as a reminder of my job. My job is to choose joy every single day, despite what else is going on. This can be easier said than done sometimes, but it is worth making the attempt.