Welcome to Day 20 of my 2014 #Write31Days journey! If you are new here, you can read a little more about me in the sidebar. 

 To my regular readers, we only have 11 days left. You guys rock for sticking with me!
A few days ago, I mentioned juicing and shared a little about organic and conventional produce. My final take on that (and a mantra I apply to many, many things) is, you do what you can when you can. Yep. I'm simple like that.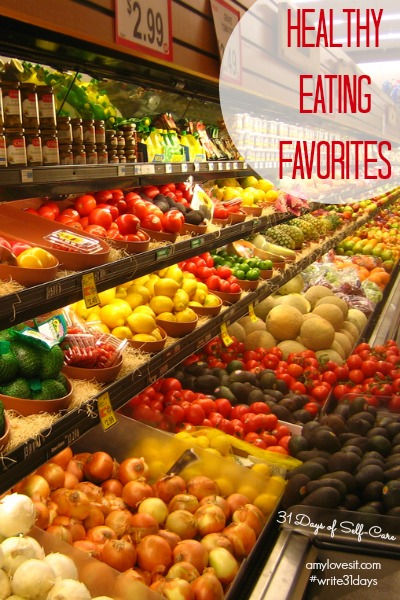 Our food journey has been going for the last several years. We've slowly implemented better (for us) things over the years. Here's what our focus is right now:
Whole foods
For the last several years, our family has worked on eating more healthfully, for the most part. We try to buy hormone/antibiotic-free milk, poultry, and meats. We do what we can with vegetables and fruits, and stick to shopping the perimeter of the store.
The perimeter of the store? Yes, for the most part, the outer areas of the grocery store are produce, meats, juices, and dairy. My store also includes bread and some frozen items (ice cream!) in these outer areas, as well.
Avoiding refined sugar
Sugar is a beast. Seriously. It's a hard battle to defeat. Right now, we try to use "healthier" sugars like honey, maple syrup, and sucanat. If we need the consistency of "white" sugar, we use organic sugar.
We do our best to avoid the sugar monster, but it isn't always easy. We feel much better when we don't eat it, though!
Eat at home
Eating at home is not only healthier, it's also cheaper. Keeping within our budget is much easier when we choose to eat at home rather than eating out.
Bread is one food I make quite a bit. Yes, it has sugar in it, but I can pronounce all of the ingredients. It's also more cost-effective than store-bought. Sure, we still get bread from the store at times, when we are in a pinch, but everyone prefers my homemade bread. The bread machine
I got for Mother's Day one year comes in very handy, and makes bread-making a cinch.
Good fats
Having a decent amount of healthy fats in our diet keeps us feeling full. I love using coconut oil (expeller-pressed is great if you don't like the coconutty taste), olive oil, and real butter in cooking and baking. I recently placed an order that includes palm shortening, and I can't wait to try it!
Buying healthy in bulk
There are a few places I like to purchase my healthy eating supplies in bulk. My local stores are very limited in what they can offer, as far as organic, fair-trade, and the like. Buying these items in bulk can also save you money in the long run!
Some of my favorite online retailers are:
Vitacost (If you are new, you can get a $10 off $30 purchase code when you go through this referral link. Then, you can refer your own friends with your link and get your own $10 coupon codes!)
Amazon – Amazon has two great options for bulk buying: Subscribe and Save, which is where I like to buy my sucanat and organic sugar, and Prime Pantry, which really isn't buying in bulk, but you can buy many grocery items and have them shipped to your home for a flat $5 rate.
Tropical Traditions – This is my favorite place for buying organic coconut oil, expeller-pressed coconut oil, and palm shortening in bulk. Tropical Traditions frequently offers sales on all of these items, and more.
Timing
When I did my Whole30, one thing I learned was to not eat right before bed. I had loved a before-bed snack, but when I learned that doing so could effect my sleep (among other things!), I stopped, and was careful to not eat at least an hour (usually closer to two) before bed.
At the suggestion of a friend, I am drinking chamomile tea about an hour before bed. It is amazing, and I have slept better the nights I have drank it compared to the nights I have not. Other than that, we try to avoid everything except water. This helps the girls at night, as well!
What are your healthy-eating favorites?
If you would like to follow along on my #write31days challenge, you can subscribe via email or feed. To follow along on others' #write31days journeys, visit Write31Days.com.

photo credit (top): rick via photopin cc
photo credit: A Guy Taking Pictures via photopin cc