I love pumpkin pie. It just says Thanksgiving to me.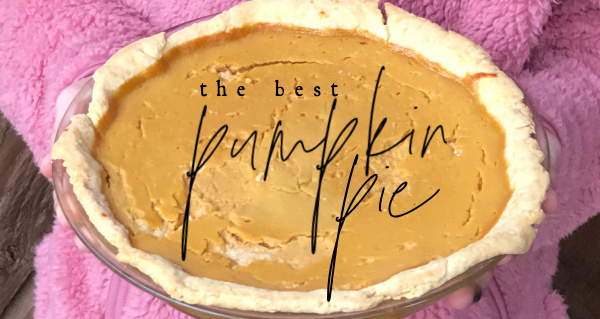 I have made pies for our family's holiday get-togethers for over half my life now. It is something I really enjoy, and my girls love helping me. Abby Grace can make them on her own now. We are going to have such a fun week!
This particular recipe hails from my great-aunt, and while I am no Aunt Juanita, this pie is still incredibly tasty. I sure do miss her!
The BEST Pumpkin Pie Recipe
Ingredients
2 eggs, room temp
1/2 cup brown sugar
3/4 cup milk
1 cup pumpkin (canned or fresh pumpkin purée work)
1/2 tsp. cinnamon
1/4 tsp. ginger
2 Tbsp. butter, room temp
Directions
Beat the eggs and sugar with a mixer, either stand or hand-held.
Mix in the milk.
Add remaining ingredients, mixing well.
Carefully pour into a 9″ pie crust.  For the crust, I am using a delicious, homemade pie crust.
Bake at 350°, for 35-40 minutes.
This is a very basic recipe, without a lot of frills, but it is definitely a crowd-pleaser!

In addition to pumpkin, we also love apple and pecan. These will also grace our families' tables this year.
Does your family have a favorite Thanksgiving dessert?